As someone who ordered a Lucid Air, one of my favorite things about the Lucid Owners Forum is the unofficial Lucid Air Grand Touring tracker thread where maybe 10% of those who ordered Lucid Air electric vehicles share their timelines with the community. It gives some of us who are in the queue and inkling of timing for when we can really expect to see our Lucid Air EVs in our driveways.
You can see the thread, which is updated super frequently by the moderators in the channel, over here. It now has broken out those who had their cars delivered and those are are still waiting, making it a bit easier to consume.
The great moderator in the forum took the data and charted it all, showing maybe a scary decline of production and delivery in the past month or two. Which is really not shocking but way more visible when it is charted.
Here is the chart he made and posted in the Lucid Owners Forum: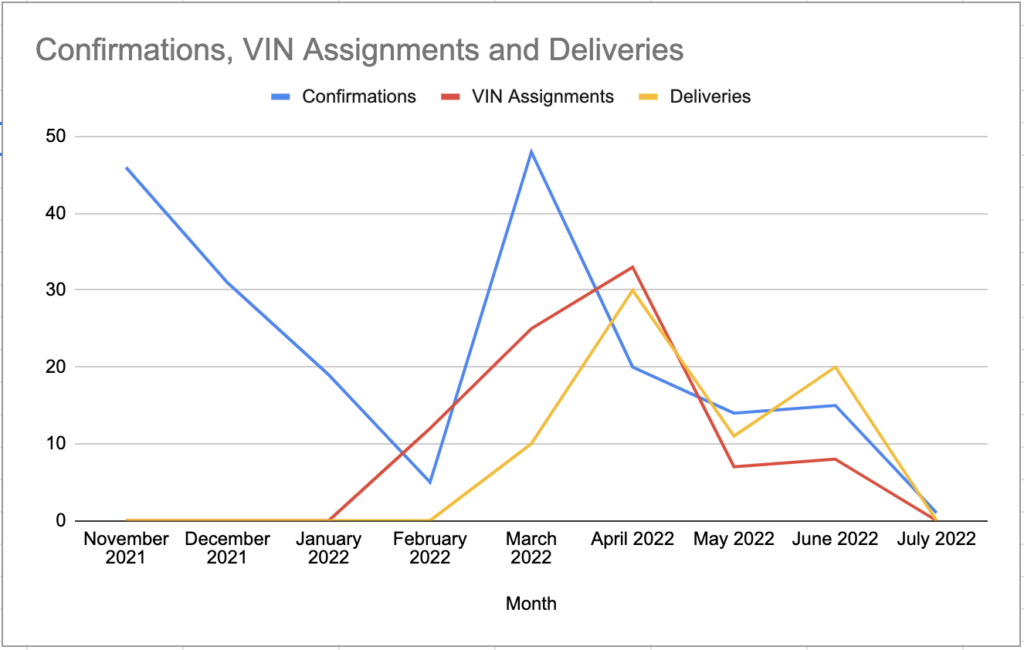 You can see there was a huge batch of orders that were opened up to be confirmed in November 2021 and then the second batch in March 2022 (I was in this batch). Then the VIN assignments spiked in March and April, only to quickly decline as the deliveries did not keep up.
As a reminder, in May, we reported about additional pre-delivery inspections, with a third fit and finish inspection as well. There were also reports of executive changes within the company related to these hardware quality issues. On June 14th, Zak Edson, the VP of Sales and Service, sent some Lucid Air customers an email to customers who received the VIN number of their Lucid Air a while ago, but those cars got somewhat stuck in pre-delivery inspection due to the recall issue saying they should receive their cars by the end of June. It seems Lucid was unable to deliver all those cars it was hoping to by the end of June but they communicated this to customers well.