Lucid Motors has removed the event notice of the opening of the first Lucid studio in Saudi Arabia. This was announced a week or so ago and sometime in the past 12 hours or so, Lucid removed the event from its website.
We spoke to Lucid Motors and they informed us they removed it because they need to reschedule the event. "The Studio opening in Riyadh is still moving ahead as planned. The opening event is moving to a different day due to staff and guest scheduling obligations. Once the new date is confirmed, it will be listed on the events page," a Lucid Motors spokesperson told us.
The events page on the Lucid Motors site had it listed as this and you can see the Riyadh Studio opening listed in the center of the page. That has now been removed from the events page.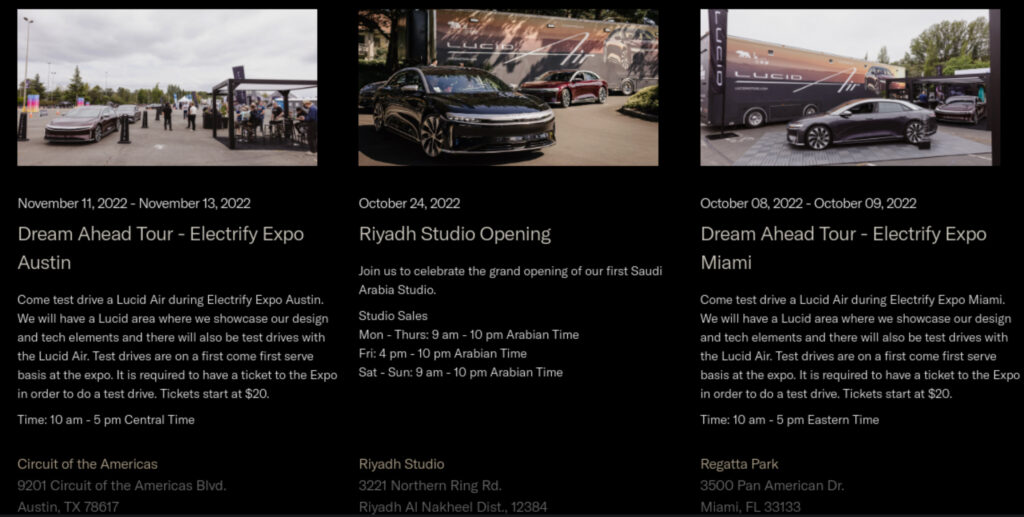 The Riyadh Studio opening was scheduled for October 24, 2022 at 3221 Northern Ring Rd. Riyadh Al Nakheel Dist., 12384 in Saudi Arabia. But again, that seemed to be gone from the website right now.
Update: A day after I wrote this story, Lucid Motors added to their studio locations page that a studio in Saudi Arabia will be opening in the Fall of 2022: