We saw this coming… 8 days ago, on July 6th, we reported that Lucid Motors were telling some customers who ordered the Cosmo Silver exterior color for their Grand Touring, that their orders would now be delayed from the normal Q3 2022 delay to a much longer Q4 2022 timeframe.
Lucid Motors has now updated the design your Lucid Air feature to show the Q4 2022 timeline, instead of the Q3 2022 timeline. Here is a screenshot: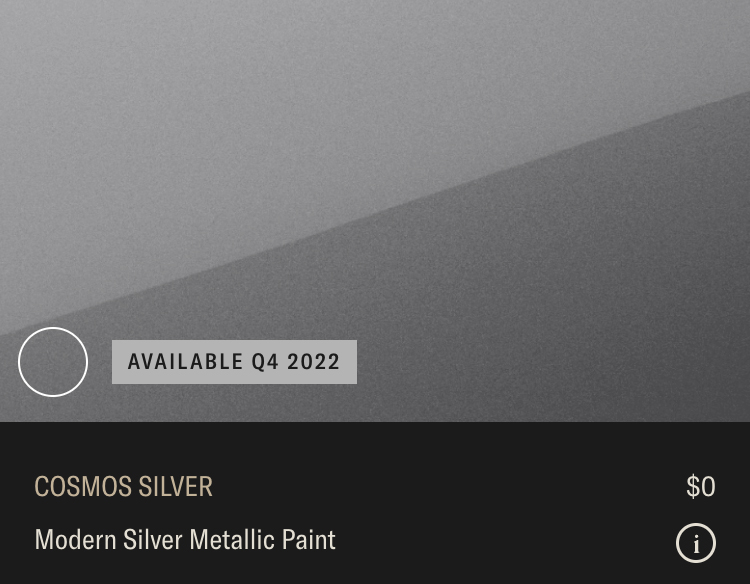 As a reminder, we have seen some Cosmo Silver exteriors in the Lucid Motors factory lot as early as May 2022. They should have started production in June 2022 but maybe not full production? The same messaging was given about the old Quantum Grey delays, with the harmony process for the color application.
In our earlier coverage, the customer who ordered silver was told "Cosmos Silver deliveries are now projected for Q4. Color harmonization delays with suppliers." He added he received a call "this afternoon and said that I was on his list to contact about the delay but that I would get an email. I am not surprised and trust that it will be delivered in 2022."
We know there has not been a single VIN assignment from Lucid Motors for a Cosmo Silver exterior to date.
So if you have an order for a Cosmo Silver exterior on your Lucid Air, don't expect it to get it in Q3 2022.