Lucid Motors has released version 1.2.10 of the Lucid Air vehicle software, it is an over-the-air update that started to roll out to customers this morning. This update delivers improvements to your Lucid Air's energy and charging system the company said.
What's New in Version 1.2.10
Lucid Motors wrote, "with this update, we're delivering improvements to your Lucid Air's energy and charging system."
We've made the estimated remaining charging time more accurate, especially at colder temperatures
We've improved the way the system monitors and estimates battery health for more accurate battery information over the life of your vehicle
We've improved how your vehicle balances energy between battery cells for improved range and more accurate battery level estimates
This update should take about 3 minutes to install on your Lucid Air.
Here is a screenshot of the update from the Lucid Owners Forum: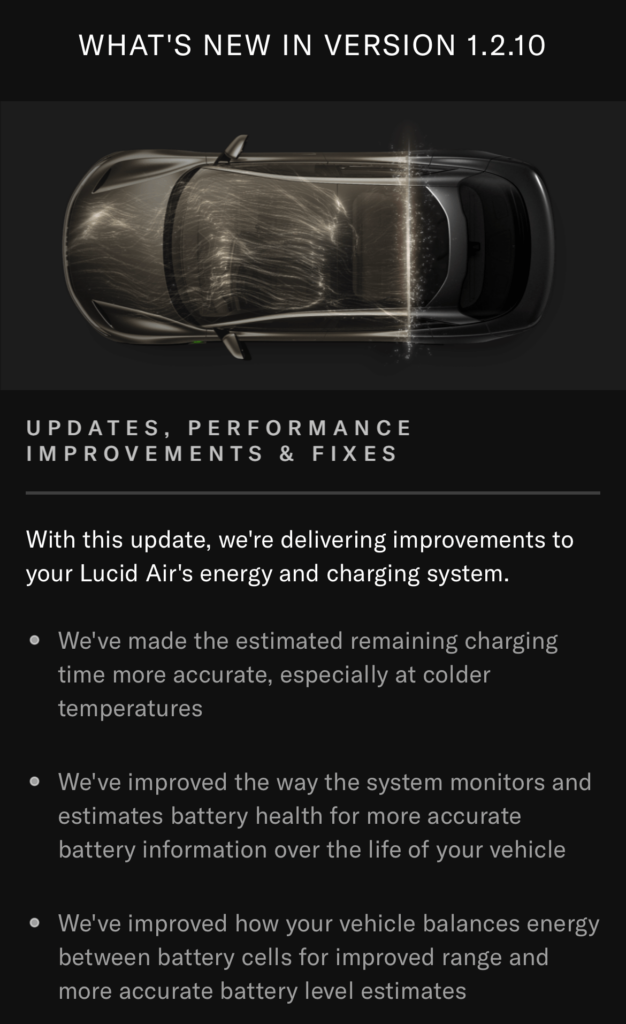 Prior Lucid OTA Updates
The prior version was version 1.2.9 on August 7, 2022 for enhancements and improvements to two DreamDrive features, Lucid Stability Control, and your vehicle's Stop Mode. Then version 1.2.76 on July 27, 2022 was designed to warn drivers of an "unlikely event" when there is a "concern with battery operation is detected by the vehicle." Then on version 1.2.75 released July 21, 2022 added several EPS improvements, power steering fix, improved tow and break-in alert to avoid false alarms, especially in hot weather, and communication error fix.. Then version 1.2.7 released around July 11th, which improved the cars software features, specifically improving the over-the-air (OTA) updates. The update comes about a month after version 1.2.6 and almost two months after version 1.2.5 was released. In v1.2.6 Lucid Motors added new languages, key fob improvements, traffic sign recognition, navigation, offline navigation mode, more interactive maps, improved range estimates, other navigation updates, and other minor updates. Version 1.2.5 added new languages, improves key fob, traffic sign recognition was added, and other minor updates.