We have bad news for those who reserved a Lucid Air Touring variant / trim. Lucid Motors has changed the website to now read that the Touring variant is slotted for Q4 2022. Previously the Lucid Motors site had the Touring variant slotted for Q3 2022.
Here is what the design your car feature on the Lucid Motors website looks like now when you pick the Touring trim, it now shows Q4 2022 availability on the web site: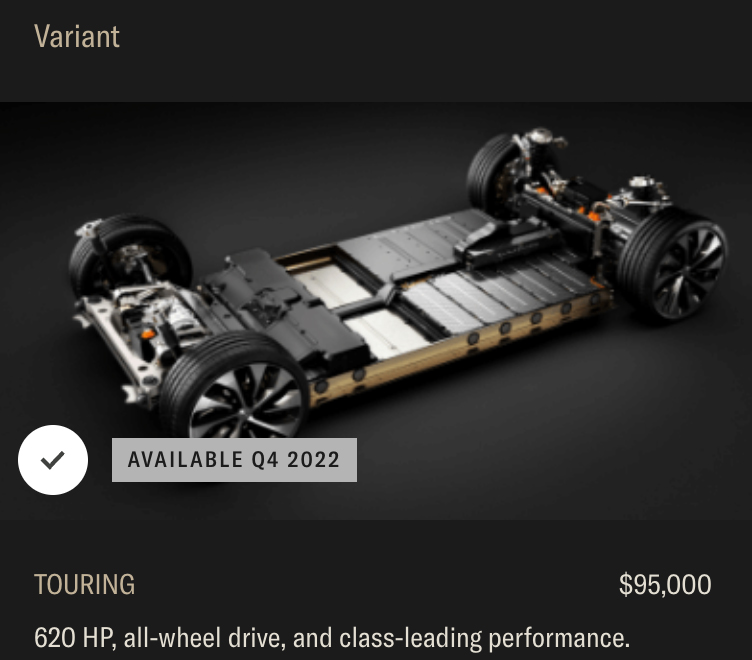 Here is a screenshot from March 2022 when it said Q3 2022:

So now if you were expecting to order the Lucid Air Touring, I wouldn't expect it until Q4 at the earliest. Truth is, if you ordered now, I wouldn't expect it until 2023.
The Lucid Pure variant is still showing Q4 2022 availability but I would not be surprised if we see that pushed off as well. While the Grand Touring trim has no availability date, as they are currently producing that variant.
Why The Delay For The Lucid Air Touring?
Why did the Touring variant get pushed back? That is hard to say. We know in the recent Lucid earnings statement the company reaffirmed its 2022 production numbers. So maybe Lucid saw a spike in orders for the more expensive Grand Touring variant and that ended up pushing off the less expensive Touring variant productions? We know Lucid prefers to produce and sell the more expensive trims before the less expensive trims. It also just might mean that everything is delayed and there are production issues but it is impossible for us to say why Lucid made this change to the site. All we know now is that the Touring variant is now saying Q4 availability versus Q3 availability.
This was first spotted in the Lucid Owners Forum just 20 minutes ago and it has some buyers thinking about cancelling their orders now and reserving a different car from a different brand.
Update: Lucid Sales Team Still Saying Q3 2022
One Lucid Air Touring reservation holder emailed Lucid asking about the change from Q3 to Q4 on the site. He posted the email response which basically said they were not told about any change and his order is still slotted for some time in Q4. The email was posted over here, but here is the screenshot he posted: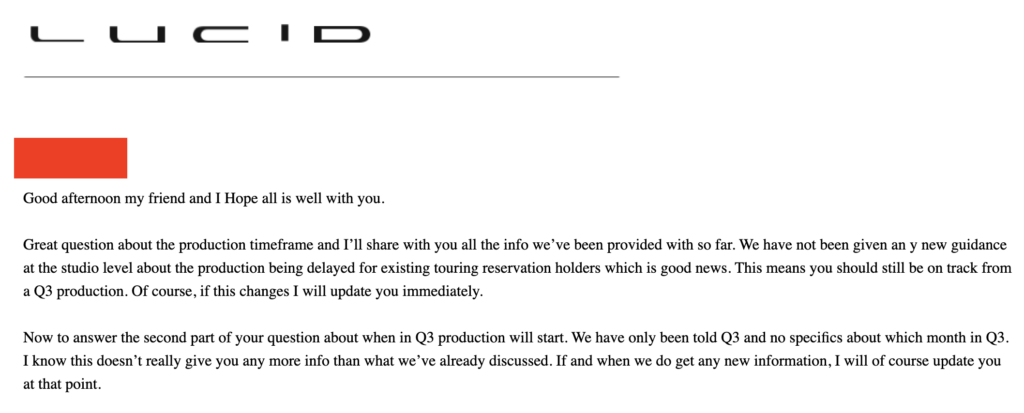 Disclaimer for Lucid: I only share publicly shared information that is available publicly on the web, not behind a paywall or walled garden (like Facebook, private emails, DMs, phone calls). Since this was shared publicly and anyone can see it, I shared it. But if Lucid emailed me or called me or messaged me and that information was not accessible publicly, I would never share it without explicit permission from Lucid Motors. Again, once it is out on the public web, then I do share it. I did explain this over here in the about this site section.
Update #2: Now Lucid Sales Teams Are Saying Q4 2022
Someone asked texted his sales rep, yes, you can text some of your reps, and this one admitted that the Tourings are now delayed to Q4 2022:
Update #3: Previous Touring Orders To Get Q3 Production…
There is another update from the Lucid Owners Forum, he said he got word from Lucid who told him this statement:
"Q4 date on the website will be correct for new reservations placed. Previous reservation holders such as yourself should still have a Q3 production timeline which is good news. There is no information on when in Q3 the Touring will go into production so we can't get any more specific than Q3 unfortunately."
Update #4: 20″ Aero Lite Wheel Delayed from Q3 to Q4
And also, those who ordered the 20″ Aero Lite wheel types are also being delayed a full quarter, more on that here.
Update #5: Old Reservation Holders Get Orders Delayed To Q4
On July 22, 2022, Lucid Motors has pushed older reservation holders who had Q3 availability dates to Q4 on their orders. This is despite what Lucid Motors reassured some of those Touring reservation holders earlier, as stated above. More details on this, in this new story over here.