Lucid Group has published its Q1 2022 earnings report and it shows that the EV company has delivered 360 vehicles to customers this quarter. They also saw 30,000 reservations, which is up from 25,000 reservations in Q4.
During the earnings call, Lucid said they delivered 300 cars just in April 2022. So production does seem to be ramping up. Lucid also said they produced 700 cars in Q1, not all were delivered in Q1 obviously. Personally, I would hope 1,000 to 2,000 delivered cars by the end of Q2 – I hope.
Lucid announced new pricing for the Lucid Air, overall the prices are going up 10 to 12% across the trims.
Here are the highlights:
Q1 revenue of $57.7M driven by customer deliveries of 360 vehicles in the quarter
Strong demand with more than 30,000 customer reservations as of today, reflecting potential sales of $2.9B
Production volume outlook for 2022 remains on track at 12,000 to 14,000 vehicles
Announces new pricing effective June 1 while honoring current pricing for all existing reservation holders
Here are the financial numbers: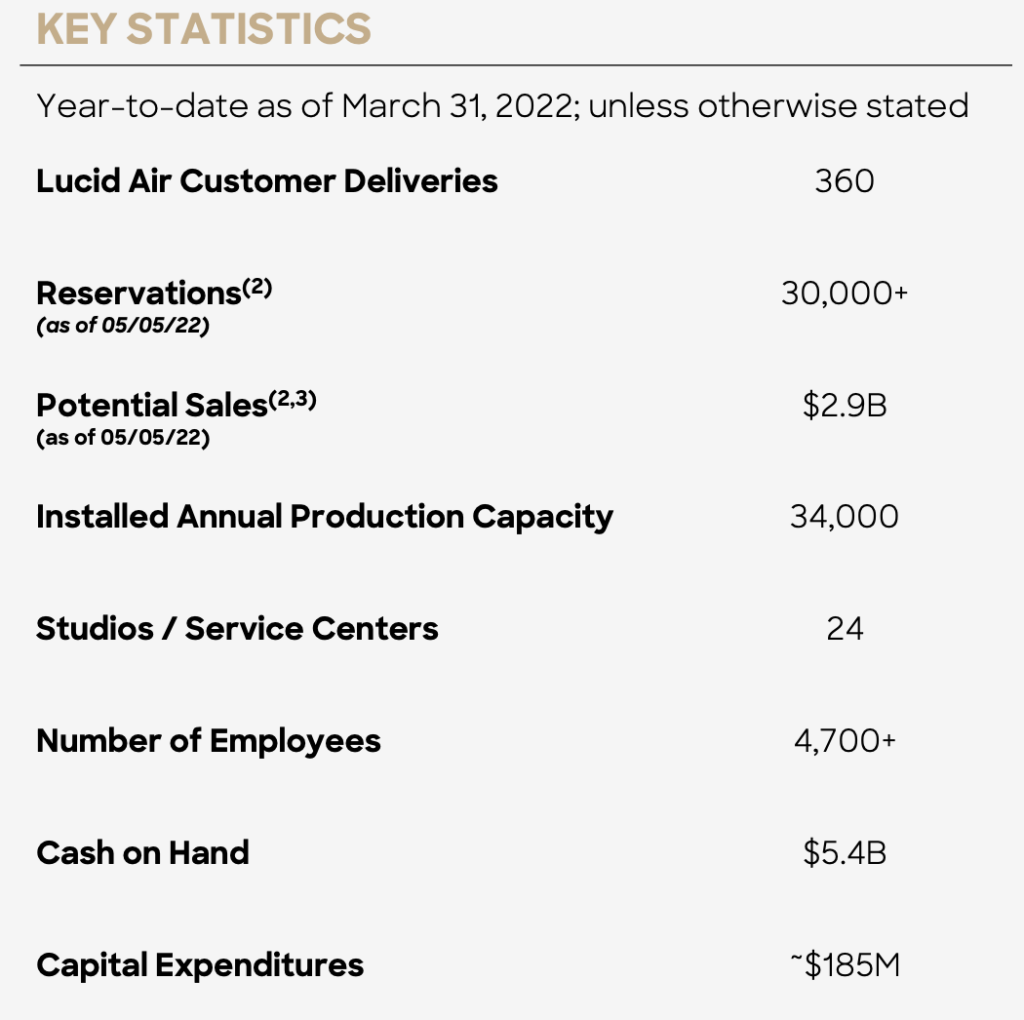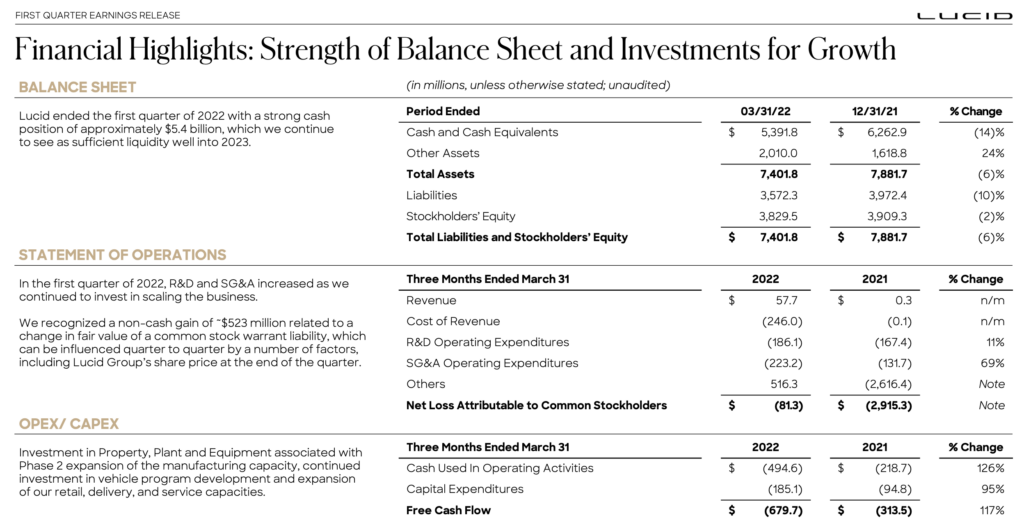 Lucid made the announcements as it reported its first-quarter results. Here are the key numbers:
Loss per share: 5 cents
Revenue: $57.7 million
Net loss: $81.3 million
Revenue of $57.7M beats by $2.14M.
Q1 GAAP EPS of -$0.05 beats by $0.29.
LCID shares after hours is flat
Lucid shared these figures in the Lucid earnings call presentation over here: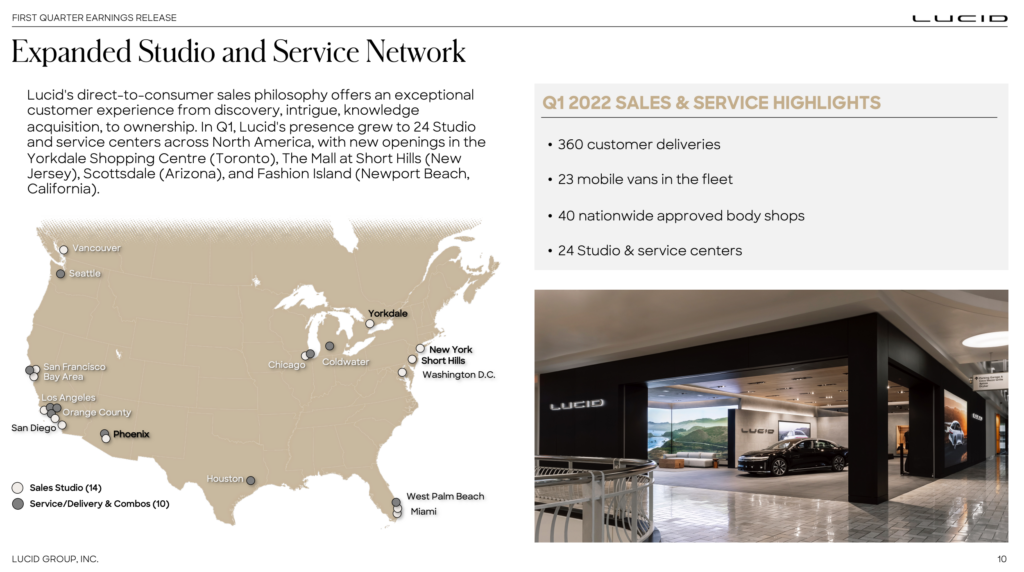 Here is the statement:
NEWARK, Calif., May 5, 2022 /PRNewswire/ — Lucid Group, Inc. (NASDAQ: LCID), setting new standards with the longest range, fastest charging electric car on the market, today announced financial results for its first quarter ended March 31, 2022. Lucid reported Q1 revenue of $57.7 million on deliveries of 360 vehicles to customers in the first quarter. The Company reported strong customer demand for Lucid Air with reservations now exceeding 30,000, reflecting potential sales of $2.9 billion. Lucid reiterated its 2022 production volume outlook of 12,000 to 14,000 vehicles and ended the quarter with close to $5.4 billion cash on hand, which is expected to fund the Company well into 2023. Lucid also today announced revised pricing across most models beginning June 1, 2022. Lucid will honor current pricing for existing reservations as well as any new reservations made by May 31, 2022. 2
"Our Q1 revenue was $57.7 million, primarily driven by higher customer deliveries of Lucid Air vehicles. We continue to have a healthy balance sheet, closing the quarter with nearly $5.4 billion of cash on hand, which we believe is sufficient to fund the Company well into 2023," said Sherry House, Lucid's CFO. "In addition to the 30,000 customer reservations we announced today, we recently signed a deal in which the government of Saudi Arabia committed to purchase up to 100,000 electric vehicles from Lucid over the next 10 years."

"Similar to many companies in our industry, we continue to face global supply chain and logistics challenges, including Covid-related factory shutdowns in China. We are working closely with our suppliers to mitigate the impact of disruptions," House added. "While any extended disruptions could result in an impact to our production forecast, today we are reiterating our 12,000-14,000 vehicle production forecast for 2022 based on the information we have at this point combined with our mitigation plans.