Lucid Motors will announce a new variant of the Lucid Air this coming Friday and all signs seem to be leading towards a tri-motor Lucid Air that will likely blow past the Tesla Model S Plaid speeds. So there is a lot of buzz and chatter from within the Lucid community around these hints Lucid Motors is dropping on the car.
Many suspect the tri-motor Lucid Air would cost above $190,000, if I had to guess, the tri-motor would be somewhere near $220,000 (again, just a guess). Right now the Grand Touring performance model is $179,000 and the normal range model of the Grand Touring is $154,000.
Anyway, a poll in the Lucid Owners Forum asks current Lucid Air owners and reservation holders if they would upgrade to a tri-motor Lucid Air if the EV costs $190,000 to $200,000. Again, I think it will cost closer to $220,000 but anyone's guess is as good as mine.
There are only 43 votes in so far, so yes, I know the responses are not statistically significant based on the 37,000 reservations. But these are engaged Lucid Air owners and reservation holders with real accounts, not fake Twitter accounts, voting on this poll.
So far, 72% said they would not buy the tri-motor Lucid Air at all or for that price. Again, I doubt the tri-motor would be less than $200,000. 23% said they would buy it if Lucid took the current car they own as a trade-in at the price they bought it for. Only 2 people voted they "maybe" would buy it. No one said yes, they would buy the tri-motor.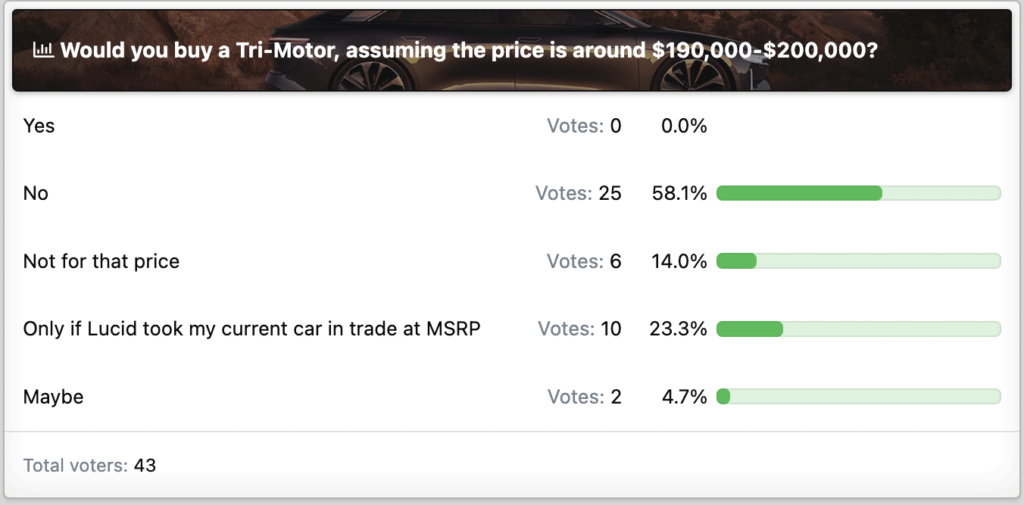 Again, according to Seeking Alpha, 85% of the Lucid Air reservations are for the Pure variant, the least expensive model. So it is no surprise that a tri-motor Lucid Air at $200,000+ would have a very limited audience.
As an FYI, we did see a widebody Lucid Air a while back, but it is unclear if that was a tri-motor.
But man, would it be cool to watch The Stig, Ben Collins, race one and we might see that on Friday at The Quail, A Motorsports Gathering.