Yesterday, we reported that Lucid Motors updated the Android app to fix some formatting issues on the maps screen. Well, early this morning, I noticed that Lucid also pushed out a fix for the iOS app for the same reason. I guess Google and Apple approved the app updates at different times, since historically, the app updates between iOS and Android have been in sync.
The iOS version, available over here, was updated to version 1.18.0 earlier this morning, August 1, 2022. The Android version, available over here, was updated on July 29, 2022.
What's New
The release notes on this update read "fixed formatting issues with EV-optimized routes and other information on the Map screen."
This was pushed on Monday morning, August 1, 2022.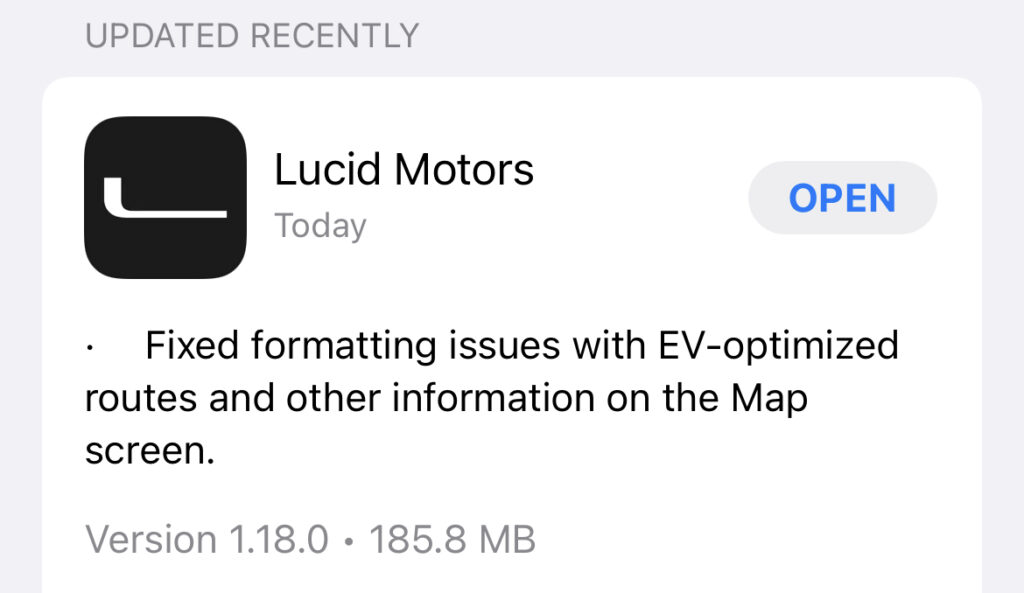 Earlier App Updates
The last update was version 1.17 on July 18th or so, that version just noted "bug fixes and enhancements." Then prior to that version 1.16 on July 7th had the ability to update the first and last name associated with your Lucid ID from the app and other fixes. Before that was version 1.15.1 back on June 26th or so, but version 1.15.1 brought the ability to check the charging screen updates, for iOS new Apple Watch Siri support, and many other bug fixes.
More
I do a big deep dive on what you can do in the Lucid App for iOS and Android, so learn more about the app over here.