Lucid Motors just announced on Twitter that they won the fastest production vehicle segment at the Goodwood Festival of Speed. The photos above is from their social channel that shows CEO of Lucid Motors Peter Rawlinson on the left; race card driver Ben Collins in the middle and SVP of Lucid Motors Eric Bach on the right. Specifically, the Lucid Air Grand Touring performance edition took the crown for the fastest production vehicle at the Festival of Speed in 2022.
Here is the tweet:
Here is a photo with just the Lucid Motors executives together: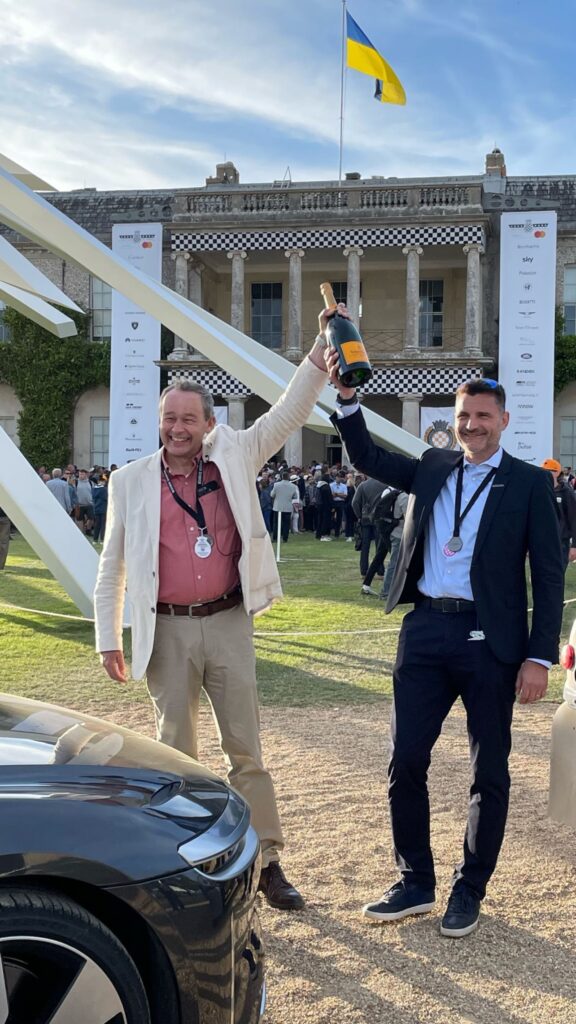 You can watch some of the racing in our earlier story over here. The Goodwood Festival of Speed is an annual hill climb featuring historic motor racing vehicles held in the grounds of Goodwood House, West Sussex, England, in late June or early July; the event is scheduled to avoid clashing with the Formula One season, enabling fans to see F1 machines as well as cars and motorbikes from motor racing history climb the hill.
Ben has competed in motor racing since 1994 in many categories, from Formula Three and Indy Lights to sportscars, GT racing and stock cars. Ben Collins is also The Stig, a character from the British motoring television show Top Gear. Created by former Top Gear presenter Jeremy Clarkson and producer Andy Wilman, the character is a play on the anonymity of racing drivers' full-face helmets, with the running joke that nobody knows who or what is inside the Stig's racing suit. The Stig's primary role is setting lap times for cars tested on the show. Previously, he would also instruct celebrity guests, off-camera, for the show's "Star in a Reasonably Priced Car" segment.
Len Devanna from Lucid Motors also shared this one from earlier today:
Congrats to Lucid Motors!