I've been waiting for the day to hear of Lucid Motors delivering a Lucid Air with the Quantum Grey exterior and today is the day. One customer posted in the Lucid Owners Forum that he received his Lucid Air in Quantum Grey two days ago on May 15th.
He reserved the Lucid Air on September 16, 2021, confirmed it on December 14, 202, received the VIN assignment on April 28, 2022 and it was delivered on May 15, 2022. He ordered the Lucid Air Grand Touring in Quantum Grey exterior with Tahoe Interior with 21" Aero Blade Wheels.
He said in the forums "I was told this is the very first Quantum Grey delivered in Texas. It looks amazing. And yes, Lucid still have work to do on software, but the car drives great, radio sounds really good, seats are comfortable." He added "do not fear Quantum Grey – it looks top dollar."
Another customer also just updated us that they received their Quantum Grey Lucid Air on May 6th.
There were a lot of rumors of delays and we saw many Lucid Air Grand Touring specs being delivered in black, red and white – we had zero confirmed deliveries of grey or silver until now. We now have our first grey Lucid Air confirmed from a customer as being delivered. About a month ago, Lucid Motors started to process Quantum Grey VIN assignments to customers and now just under a month later, Lucid has delivered the Quantum Grey Grand Touring to some customers who reserved early.
Here are some of the photos from these customers posted in the public forums – click to enlarge them: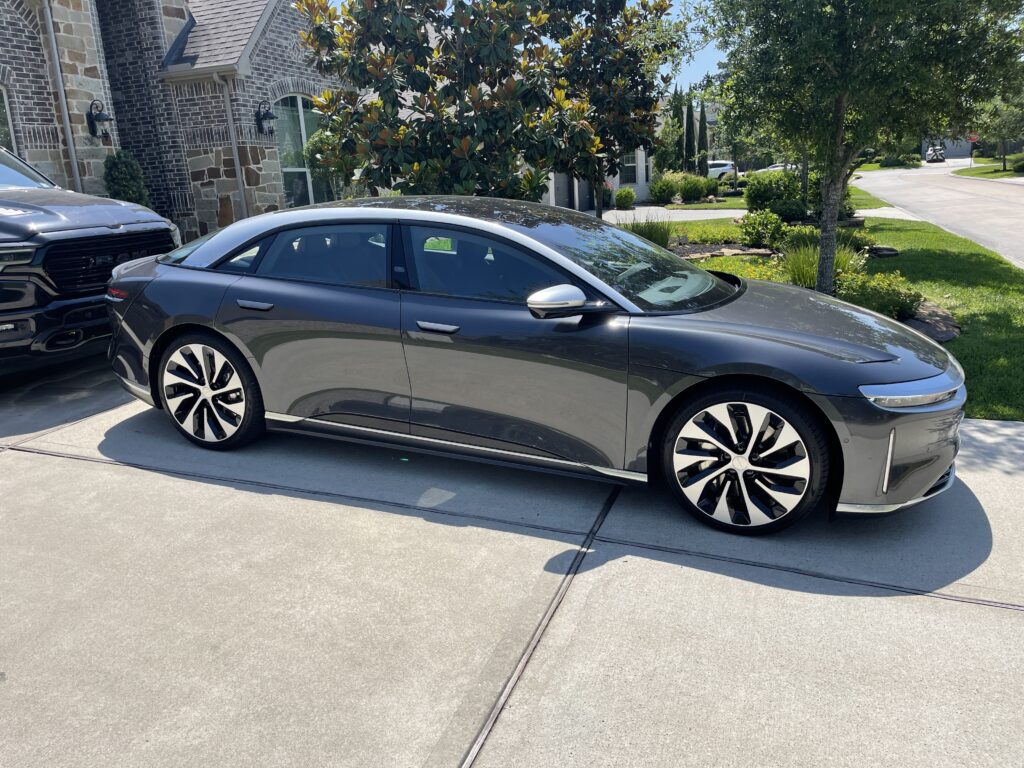 As someone who ordered the Lucid Air in Quantum Grey, I am super excited to see these being delivered.
Now the only color not yet delivered are the Cosmo Silver exterior colors, those are expected in Q3.
You can see some Quantum Grey Lucid Air exteriors in this video below from @JoshWest247:
Another video – here is a walkaround: