Lucid Motors seems to be allowing some Lucid Air Pure trim, the least expensive Lucid Air trim, to upgrade to the Touring trim at the original price prior to the price hike. As a reminder, Lucid Motors increased the prices across all trims and options on June 1, 2022, bringing the Touring from $95,000 to $107,400.
Lucid is emailing some customers who reserved the Pure prior to the price hike, i.e. prior to June 1, 2022, that they will allow them to upgrade from the Pure to the Touring for the $95,000 price. These folks originally reserved the Pure for $77,400 but now the price of the Pure is $87,400.
The email was posted in the Lucid Owners Forum where it reads "If you would like to consider upgrading your pre-06/01/2022 PURE reservation to a TOURING trim level, Lucid Motors will honor the original pricing over the new pricing that went into effect on June 1, 2022. "
The email goes on to explain that the Touring offers the following features not available with the Pure trim:
Fine grain leather interior available in 3 color options
620 horsepower dual-motor, AWD
20″ or 19″ standard wheel with option for 21″ wheel
14 way power adjustable front seats with memory
Heater and ventilated front seats
Glass Canopy upgrade option
Here is that email: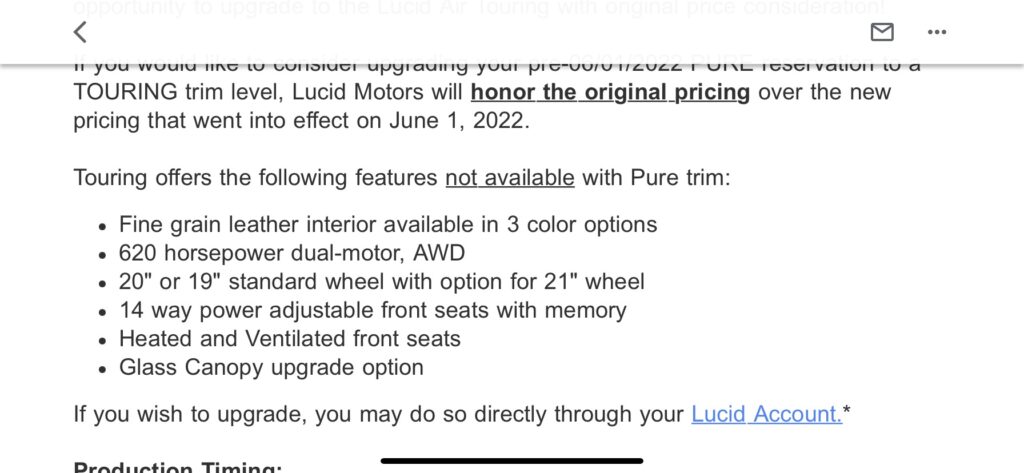 As a reminder, Lucid Motors has offered these upgrades for previous trims in the past. Lucid did these for Touring trims to upgrade to the Grand Touring trim to get the car sooner, to get the original lower cost price, and to upgrade to the Grand Touring performance trim.