Lucid Motors this morning has been emailing customers who reserved a Lucid Air Touring and Lucid Air Pure to upgrade to the more expensive Grand Touring and Grand Touring Performance. Instead of the previous email that offered a lower cost, original pricing, this new email is offering that they would get their Lucid Air sooner if they upgraded.
Lucidnaire on Twitter posted a screenshot of the email he received from Lucid Motors just a few minutes ago. I believe Lucidnaire reserved the Lucid Air Pure. The email says:
Take delivery of the Lucid Air sooner by taking advantage of the fantastic cars we already have in production. Upgrade to the Lucid Air Grand Touring or Grand Touring Performance, have it built to your exact specifications, and get it delivered earlier than your current reservation.

Lucid Air Grand Touring represents the pinnacle of performance, with an EPA-estimated range of up to 516 miles, or 1,050 horsepower with Grand Touring Performance.

We're thrilled to offer the flexibility to upgrade and even more excited to be able to get Lucid Air to you even earlier than you expected.
He added that this would be at the new more expensive prices of $154,000, not the $139,000 price.
There is an upgrade call to action under the text. Here is the email he shared: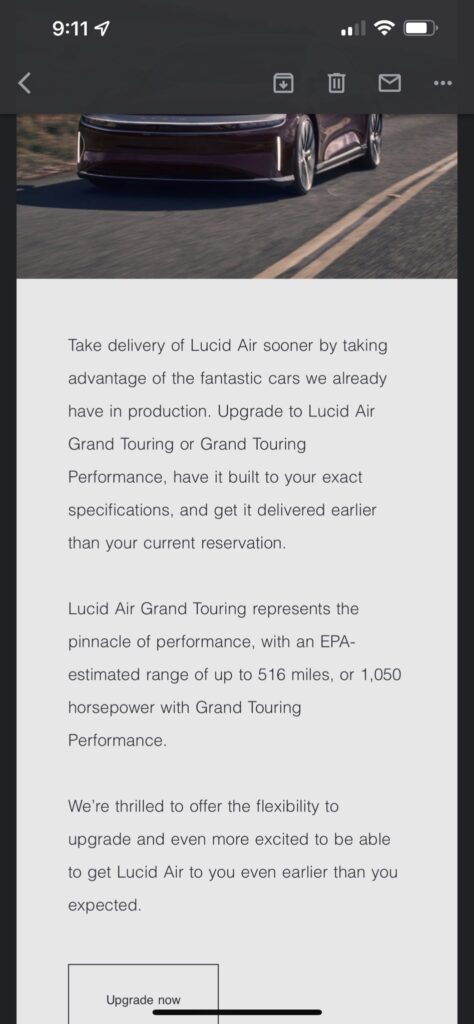 Yes, Lucid Motors first put the Dream Edition into production and those were delivered first. Then the next most expensive trim, the Grand Touring went into production and Lucid Motors is delivering those now. Keep in mind, if you upgrade now, you still won't get y our Lucid Air Grand Touring for 2-5 months. But Lucid Motors will produce the Grand Touring trims and deliver most of those Grand Touring EVs prior to delivering Touring or Pure trims (for the most part). The Pure reservations will be fulfilled last, after the Air Touring.
Here are some of the customers that received this email: