Lucid Motors announced price increases across the Lucid Air trims with increases about 10-12% last night during the earnings announcement – we saw this coming. As a reminder the Lucid Air pricing changes are as follows:
Grand Touring is going from $139,000 to $154,000 (up 10%)
Touring is going from $95,000 to $107,400 (up 12%)
Pure is going from $77,400 to $87,400 (up 12%)
Confirm vs Reserved – Price Lock
There is some confusion around if reserving is enough to lock in the price. The answer is, for 30 days. If you reserve before June 1st, you have until June 30th to confirm the order, to fully lock in that price. If you do not confirm your order before June 30th, the price will go up 10% or so.
What About Confirming Touring & Pure
Do note that you can now only confirm reservations for the Grand Touring trim, since Lucid has not yet begun production of the Touring or Pure trims. I suspect those who reserved the Touring or Pure trims will have those prices locked in for 30 days after they get an email that they can confirm those orders.
The Pricing Update Email Lucid Sent
Lucid Motors later that night emailed customers notifying them of the price change, the email's subject line read "An update on Lucid Air pricing." Here is a screenshot of the email that I received: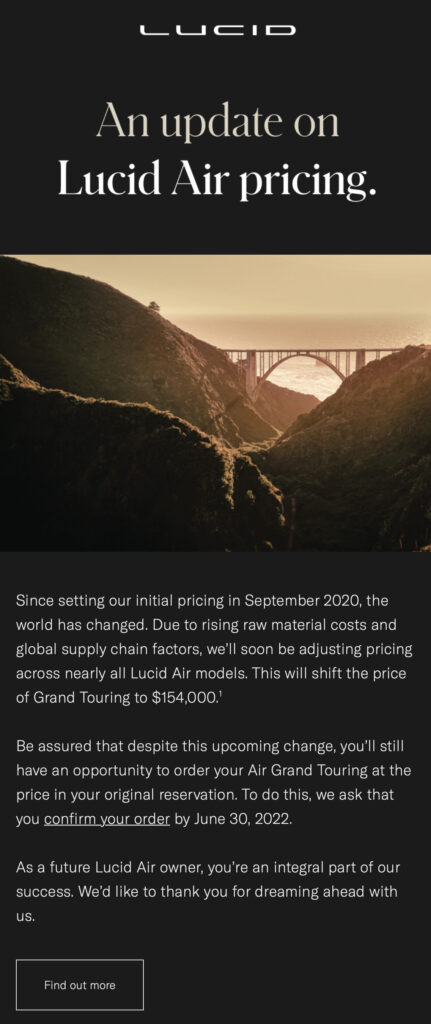 Here is the text of the email:
Since setting our initial pricing in September 2020, the world has changed. Due to rising raw material costs and global supply chain factors, we'll soon be adjusting pricing across nearly all Lucid Air models. This will shift the price of Grand Touring to $154,000.

Be assured that despite this upcoming change, you'll still have an opportunity to order your Air Grand Touring at the price in your original reservation. To do this, we ask that you confirm your order by June 30, 2022.

As a future Lucid Air owner, you're an integral part of our success. We'd like to thank you for dreaming ahead with us.
Lucid Mistakenly Email Some Who Confirmed Their Orders Already?
Honestly, I am not sure why I received this email? I have already confirmed my Lucid Air Grand Touring back in March 2022. Why would they ask me to confirm again?
Here is a screenshot of my confirmation: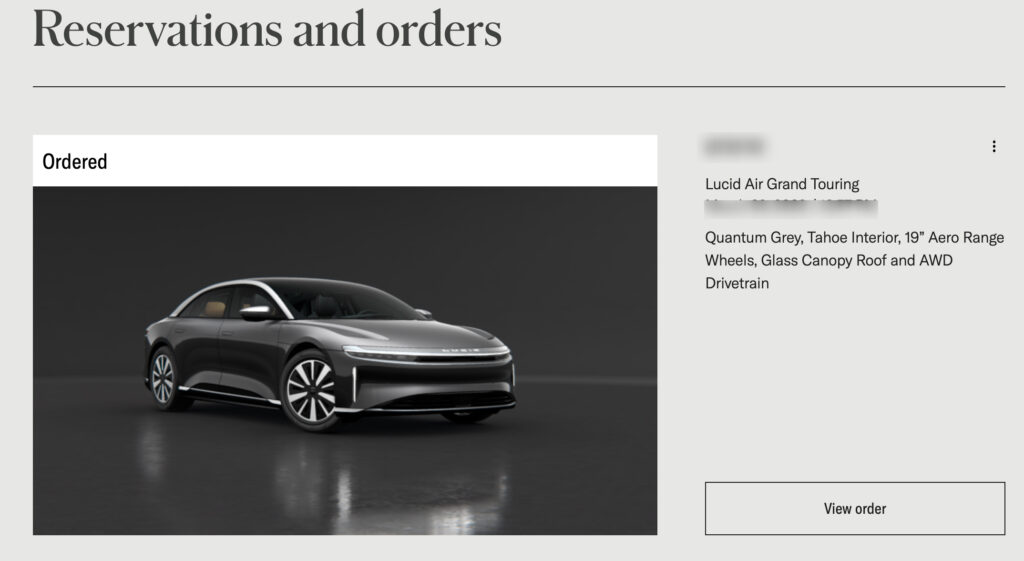 I do have other "designs" not reserved or ordered yet but none of those designs are for the Grand Touring and none of those designed were reserved.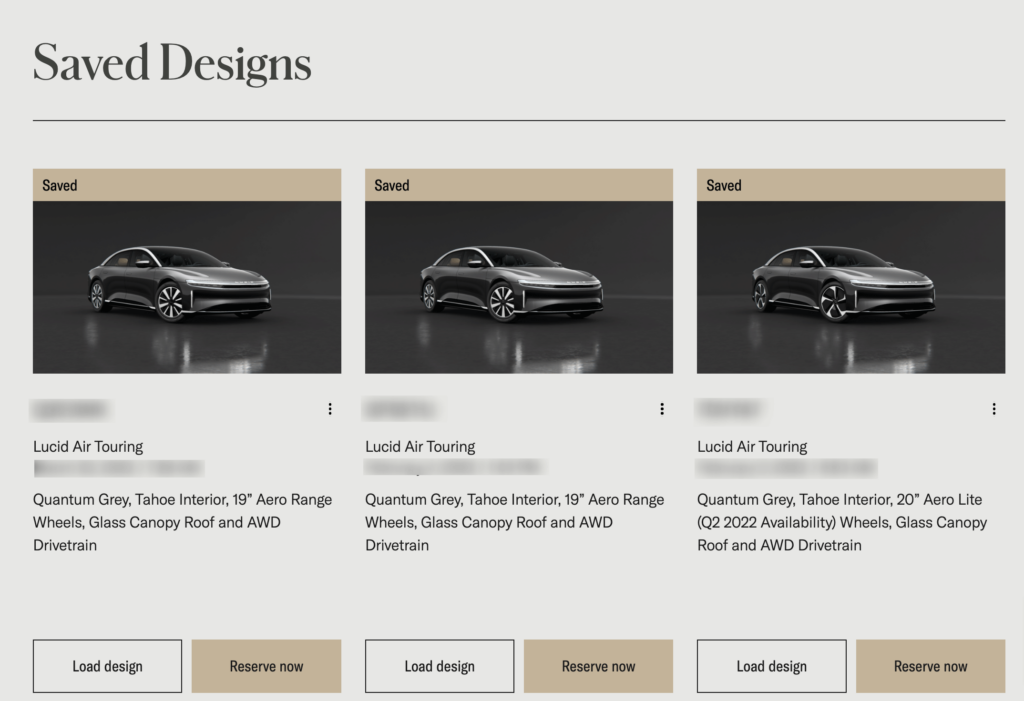 Maybe Lucid sent this to all their customers, even those who have confirmed orders or received their cars in case they want to order a second?
Lucid Reservation Holders Are Confirming Now
I have seen a few reservation holders who were on the fence or waiting to confirm their orders actually confirm their orders in the past 12-hours because of this announcement. I spotted those in the Lucid Owners Forums, in this thread and this other thread.
The goal is not just to increase prices to cover costs but also to urge reservation holders to push the trigger and confirm their orders by making the $1,000 deposit, non-refundable.