You've decided you want to order a Lucid Air and you went online and put in a reservation through the Lucid Motors website. Now what? Well, there are multiple steps that you go through when ordering a Lucid Air, at least for those who ordered when the cars were first coming out.
The stages including placing a reservation, confirming the order, being assigned a VIN and then accepting the car via delivery. I will go into an explanation of these stages and the estimated current timeframes when ordering a Grand Touring for each stage.
Reserving A Lucid Air
The first step in the process of ordering a Lucid Air is to reserve the car. You need to the Lucid Motors website and either click on "Reserve" or click on "Design Yours." Ultimately, you are putting down a deposit to reserve the car. The current cars available to reserve include the Air Grand Touring, Air Touring and Pure. The Grand Touring and Touring require a $1,000 deposit, while the Pure is a $300 deposit. You can pay this deposit on credit card and it is fully refundable up until you confirm your order.
Here is a screenshot of the Lucid Air reservation form: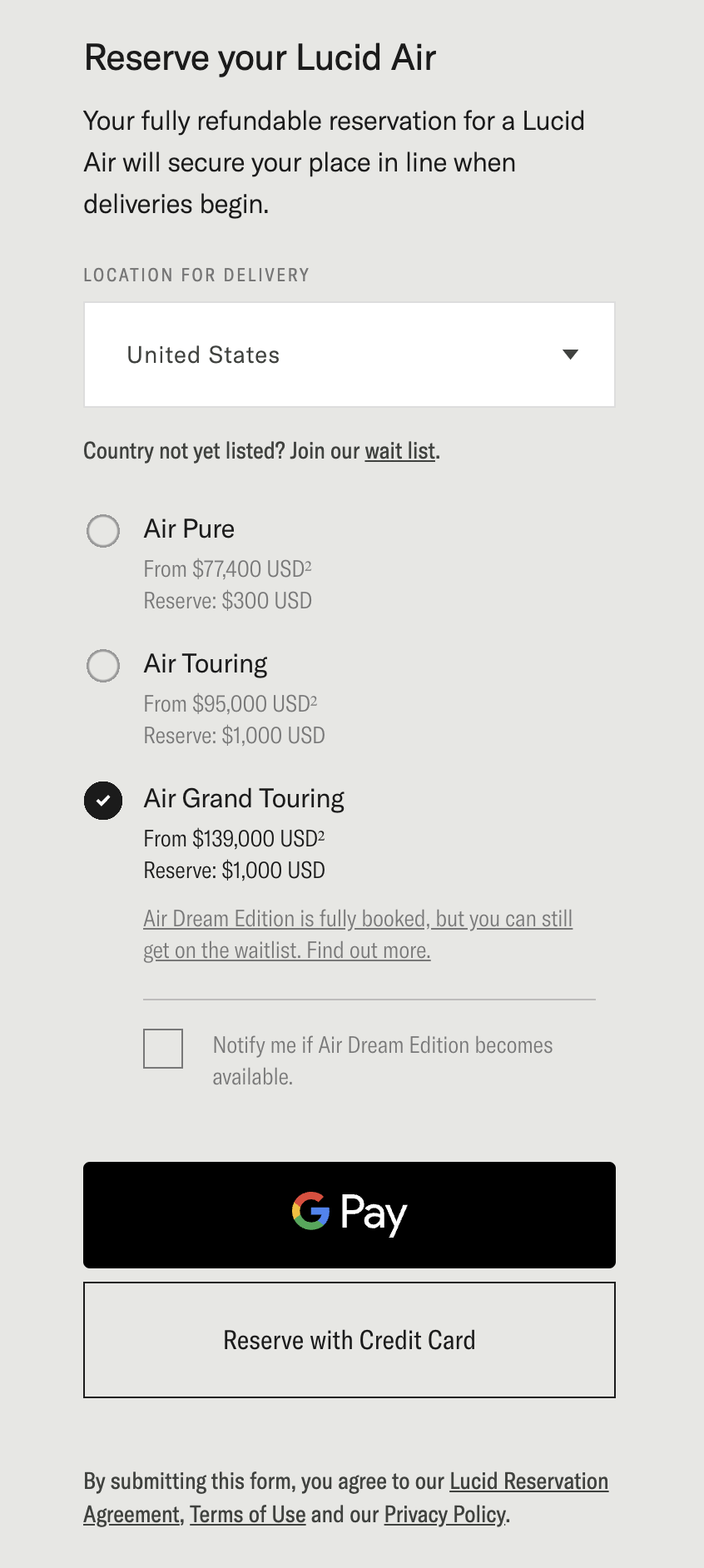 Confirmation Of Your Lucid Air Reservation
When Lucid Motors is ready to start working on building your car, you will get an email from Lucid to "Confirm" your order. The email will basically tell you it is "time to confirm your order." The instructions will ask you to either login to your Lucid account and click on the confirm order button or reach out to someone on the Lucid team to discuss any questions and have them manually confirm the order for you.
Here is a copy of the email I received to confirm my Lucid Air:

During this confirmation process, you are asked to finalize the exterior color, interior colors and specifications of your car. I personally did this on my mobile phone, but they do give you a warning to make sure to review the specifications carefully before submitting the final order.
When you confirm your order, the deposit is no longer refundable.
Here is an email confirmation after you confirm the order and then I believe your "Delivery Advisor" gives you a more personalized approach going forward with the VIN assignment and delivery notifications.

After I confirmed my order online, I received two emails, one from "Studio Advisor" who was excellent in answering questions I had before and after reserving car telling me what to expect next. I also received an email from the Lucid Headquarters Sales Advisor with similar details.
Lucid Delivery Advisor
The emails basically said what I should expect to see in the following weeks. I was told I would hear from mine Delivery Advisor, who is specially trained to walk me through the necessary steps of preparing for delivery of my Lucid Air. I was told the Delivery Advisor will reach out in the "coming weeks" to introduce themself and begin confirming and collecting initial information needed to progress your order.
I was also told to reach out to both my Study Advisor and Sales Advisor if I needed anything before my Delivery Advisor connects with me.
VIN Assignment Of Lucid Air
The VIN, Vehicle identification number, assignment means your car is just about ready to be final production and delivery of your Lucid Air. This is when Lucid Motors assigns the Vehicle identification number to your Lucid and it means your car is almost ready.
I found some screenshots of emails of this, but this seems like more of a manual email sent to the Lucid buyer from Lucid Motors.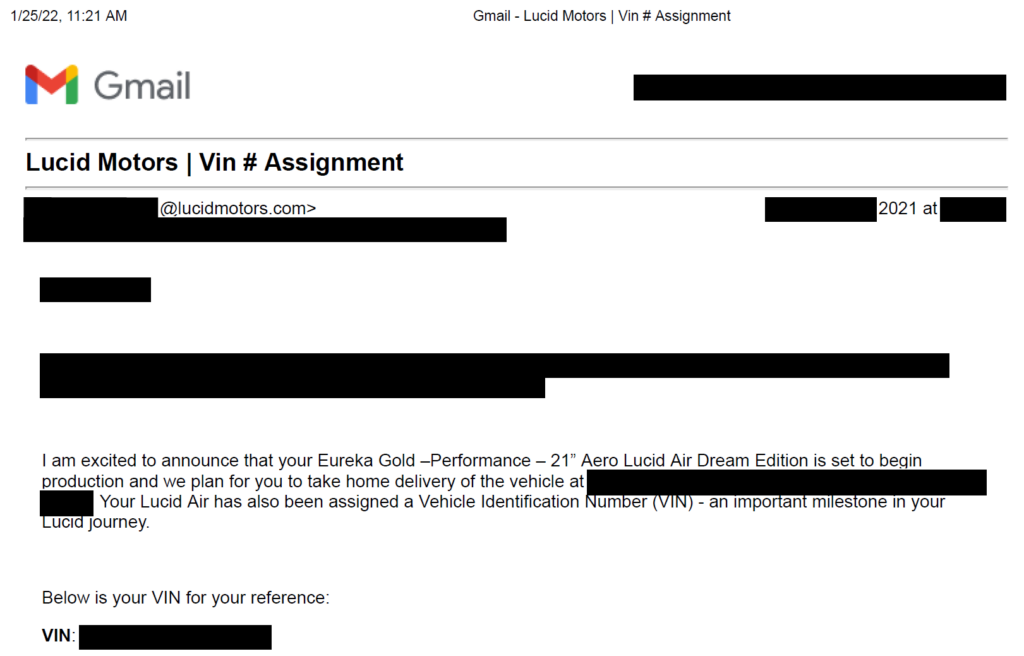 You should have your car within 30-days from the VIN assignment notification.
Delivery Of Lucid Air
I have not seen any screenshots of emails about your delivery of your Lucid Air. I assume Lucid Motors sends these out but I also assume Lucid calls the customer to coordinate the delivery location, date and time. All the posts I've seen from those who have had the Lucid Air delivered or are going to have the Lucid Air delivered are just about phone calls they've received from their Delivery Advisor at Lucid Motors.
So I do not yet know if emails go out about this step.
From what I hear so far, with the Dream Edition and Grand Touring, delivery is free to your home or office or if you prefer, you can pick it up at one of Lucid's locations.
Timing Of Lucid Air Ordering Stages
The moderator at the Lucid Owners Forums has been keeping track of the current orders for those who are publicly posting them in the forums and he documented what we have seen so far.
Fastest reservation to confirmation turnaround time: 23 days
Fastest confirmation to VIN assignment: 76 days
Fastest VIN assignment to delivery: 16 days
Slowest confirmation to VIN assignment: 138 days
Slowest VIN assignment to delivery: 29 days
Average confirmation to VIN assignment: 99 days
Average VIN assignment to delivery: 23 days
These are based on the Dream Edition and Grand Touring orders, as Touring and Pure trims have not yet been confirmed or delivered.
It seems like the fastest time from reserving to getting the Lucid Air Grand Touring is 115 days, which is just under four months right now.