Last night, Lucid Motors sent an email to customers and reservation holders about the new pricing going into effect soon and they should confirm their orders. I received that email even though I have confirmed my order for the Grand Touring back in March.
At around 5pm ET Lucid sent another email with the subject line "An update on Lucid Air pricing" to clarify that my price is locked in and won't go up, since I already placed the order.
Here is a copy of that email: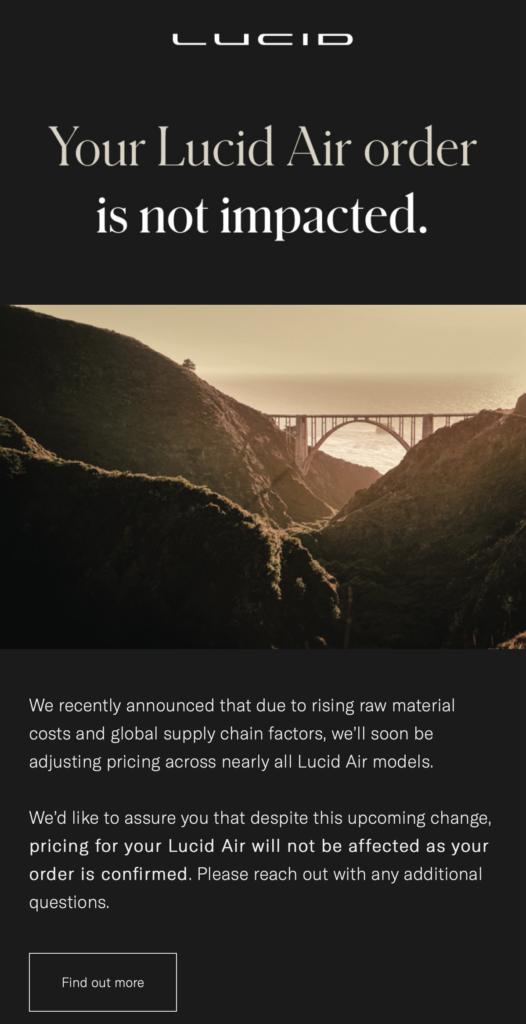 Here is the text of the email:
We recently announced that due to rising raw material costs and global supply chain factors, we'll soon be adjusting pricing across nearly all Lucid Air models.

We'd like to assure you that despite this upcoming change, pricing for your Lucid Air will not be affected as your order is confirmed. Please reach out with any additional questions.
I assume Lucid customers who placed orders and did not yet receive the car were confused by the email from last night and Lucid decided to email those customers to confirm with them that their price will not change.