A new Lucid Air owner who had his car for three-weeks posted photos of a weird leak he spotted in his garage as he pulled out his Lucid Air. He posted photos of a redish / pink leak under the car – this photo is from the Lucid Owners Forum.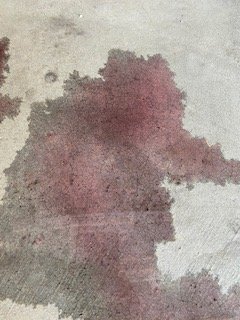 He said he has had his "car for three weeks now" and then noticed "a wet spot in the garage when I drove off to work in the morning." The owners described the liquid color as "pink." He said he was "worried" and then "checked under the car" again "and saw the liquid dripping from the back edge of the battery undercarriage."
He called Lucid service and they took the car to the service center and gave the custom a loaner, specifically a Jaguar E-Pace, not a Lucid Air.
Service got back to him later in the day to say the issue is with the rear motor unit, he said Lucid service "finally opened up the belly and found that the fluid is leaking from the rear motor unit. They can't tell where exactly the leak is coming from so they are going to replace the entire rear motor unit. Obviously, this is not something that is carried in their standard inventory so they have ordered it from central supply (probably Arizona) We'll see how long it takes to get here."
He added "My service advisor stated that this is the first one that failed so the engineers in Newark will be dissecting my engine to find out what happened. I'm interested to know the details."
But there was another Lucid Air that had its motor replaced that we are aware of, the question is, was it the same issue? It didn't seem like it but who knows.