Lucid Motors is inviting some of those who ordered and/or reserved a Lucid Air in the Seattle, Washington region to a private VIP reception of the grand opening of the new Lucid Studio in Seattle.
The private invite-only event takes place at the Lucid Studio University Village location at 2624 NE University Village Street, Seattle, WA 98105. It is on Friday, June 24th between 6pm and 9pm.
The official opening for everyone else, not on the VIP list, will likely be the following Saturday or Sunday. At least that is how Lucid has been doing their Studio openings before, first with a private VIP opening and then a day or two later, a public opening ceremony.
The email Lucid Motors is sending reads "Join us in Seattle." It goes on to say "you're invited to a private evening reception to celebrate the grand opening of our new Studio in Seattle. You'll be among a select group of VIPs to privately tour our Studio, meet our team, and experience the groundbreaking Lucid Air. It promises to be a very special gathering."
Lucid also announced this morning the opening of a Lucid Studio in Denver, Colorado this weekend.
Here is a screenshot of this invite: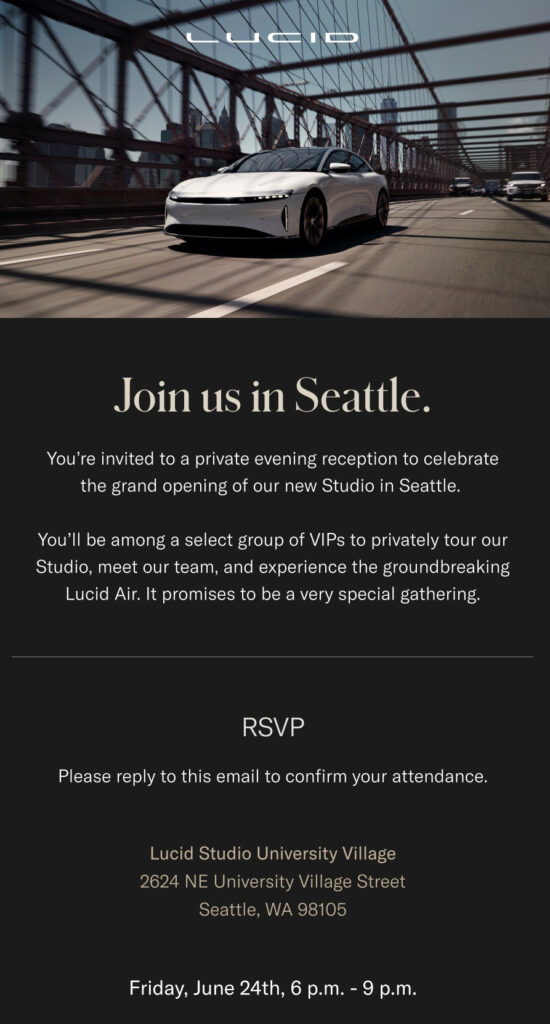 The folks in the Lucid Owners Forum are talking about possibly going…
Update on June 24th: Lucid Motors officially announced this studio opening in this press release and wrote: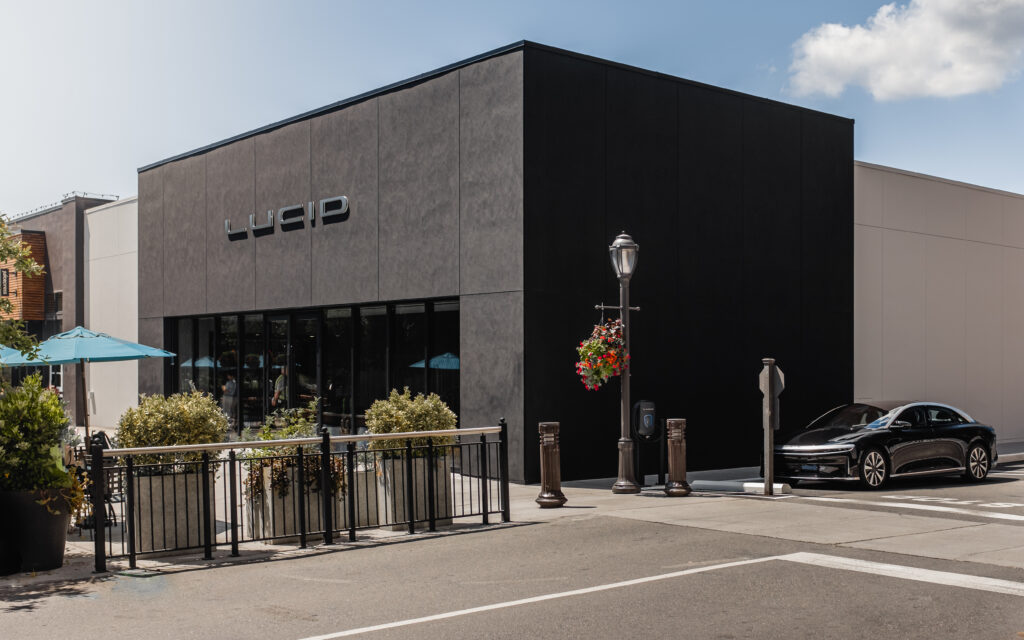 NEWARK, CA — June 24, 2022 — Lucid Group, Inc., (NASDAQ: LCID), setting new standards with the longest-range, fastest-charging electric car on the market, today announced the official opening of its first retail location in the Pacific Northwest at University Village in Seattle, WA. This Lucid Studio opening marks 28 Studio and service center locations open in North America. Lucid Studio University Village will be open to the public starting on Saturday, June 25.
"The response to Lucid in Washington state has been tremendous, which reflects the region's unique embrace of both innovation and the environment," said Zak Edson, Lucid's Vice President of Sales and Service. "We have a growing number of Lucid Air owners in the market, and the new Lucid Studio in University Village will provide the perfect opportunity for EV enthusiasts to engage with and learn about the groundbreaking Lucid Air."
Lucid Studio University Village will join the Lucid service center at 3412 Airport Way S, Seattle, providing comprehensive support for Lucid owners in the area.
Update June 25th: Here are photos and videos from the opening: