As you know, Lucid Motors recently had a recall specific to the ethernet wiring harness for the Glass Cockpit instrument panel, that recalled all the EVs the company delivered. So far, I have yet to hear of a car from any owner that had the issue, Lucid Motors estimated one-percent of the cars had an issue.
That being said, it is a quick 10-30 minute service check, where Lucid can send a Lucid mobile service rep out to you or you can go to a service center and have your Lucid Air checked. Below is a photo I found in the Lucid Owners Forum of a Lucid service rep checking for the recall issue on this Dream Edition owner's Lucid Air.
Here is the photo of Victor from Lucid doing the inspection on his car (you can see a Rivian in his garage as well):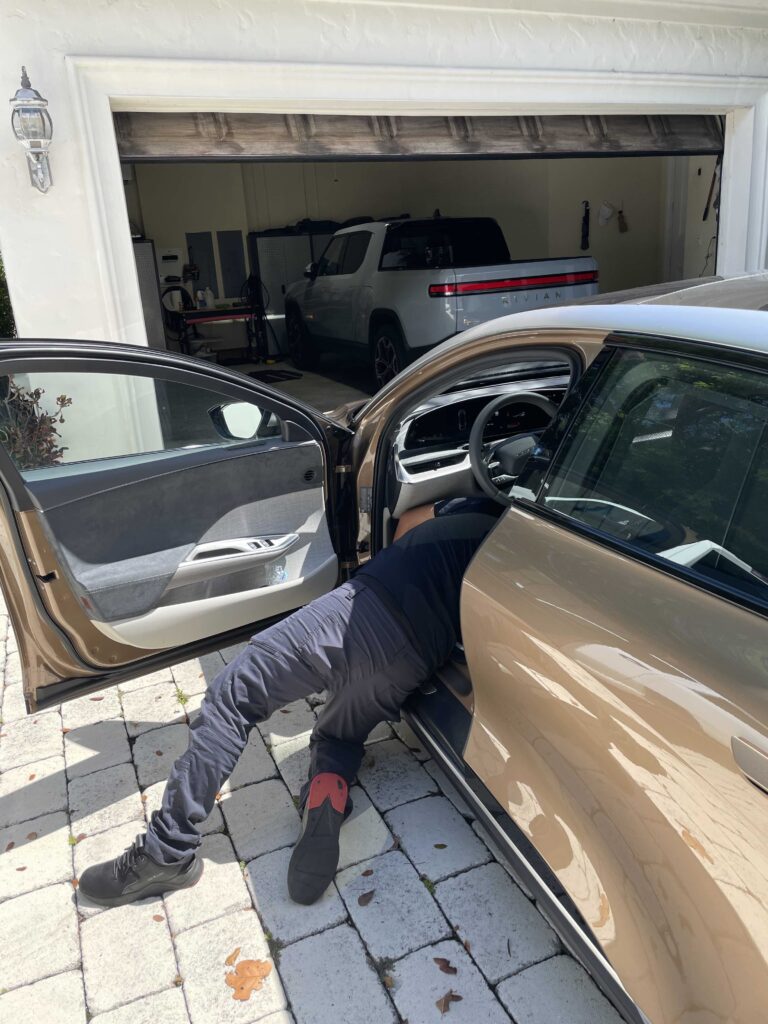 He said in the forum:
"If you do not own a Lucid, or have not driven one, it is hard to evaluate the impact, that a reported issue, will have with a potential buyer. Best example is recall number #2. If I was a buyer, and not an owner, I too would be spooked by two recalls in a matter of months on a $170 k car. As an owner, and thanks to the information provided in this forum, the recall turned out to be nothing more than making my car available for inspection to Victor (Who loves cars as much as I) for ten minutes, so he could move the harness out of the way and secure it. If you love driving above all, you will not find another EV that has the driving dynamics of the Air. Missing an opportunity to own and enjoy the car early, rather than later, because something takes longer to respond to the touch, will not keep me from buying the car. I am not saying the Air is for everyone, but make sure you drive one before you decide to walk away."
Here is another comment from a Lucid owner about his experience with the recall service call:
"Just had the recall inspection. Very efficient, professional and friendly technician (I think his name is Kenny, but my hearing's not what it used to be ;-), came to the house (a 3-hour drive from Beverley Hills). He zip-tied the harness that goes to the flat panel to keep the harness safely away from the steering column under the dash. And, per CA rules, he checked tire pressures and set them at 49.5 psi (19-inch wheels). He also checked tread depth. All in all, a painless procedure and nicely done. Thanks to Aaron and his crew!"
It is upsetting that recall issue seems pretty minor in terms of the number of cars actually impacted because it feels like this has pushed back Lucid in their delivery estimates for many customers.