The Lucid Air is equipped with up to 32 on-board sensors, including long range Lidar radar, short-range radar, surround view monitoring cameras, front multifunction camera, rear view camera and ultrasonic sensors. These cameras are used for the DreamDrive ADAS, advanced driver-assistance system, technology and will be used for future DreamDrive Pro capabilities.
Below you will find the types of sensors, cameras and radars on the Lucid Air, the position of those sensors, cameras and radars, the features and limitations of those ADAS components.
When you look at the car, you can spot some of the cameras and sensors on the exterior. But here are two diagrams that show you where these sensors, cameras and radars are located on the Lucid Air.
Types Of Sensors, Cameras & Radars In Lucid Air
Long-Range Radar (Lidar)
Surround View Monitoring Cameras
Front Multifunction Camera
Short-Range Radar
Ultrasonic Sensors
Rear View Camera
Front View Of The Lucid Air's Sensors, Cameras & Radars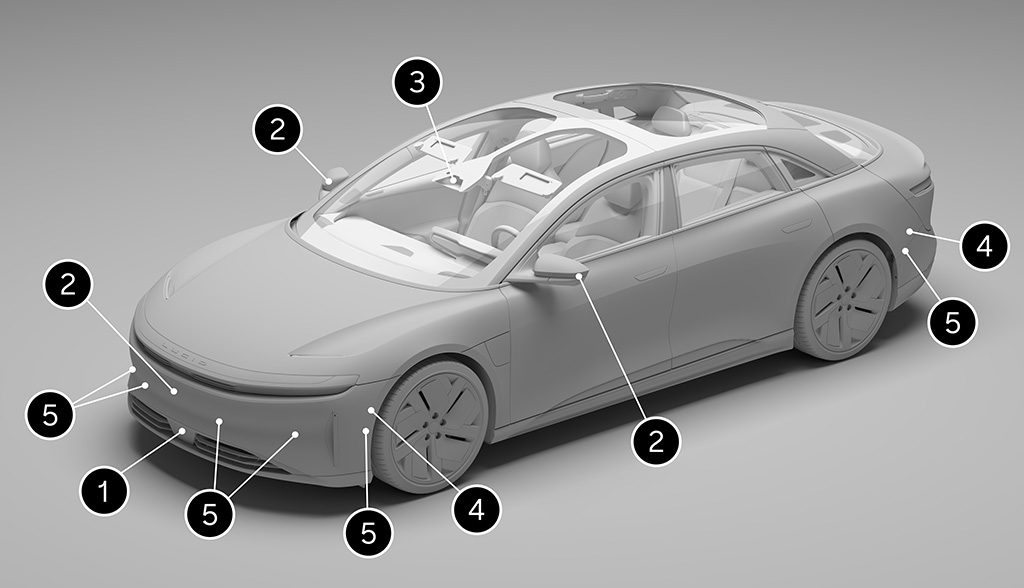 Rear View Of The Lucid Air's Sensors, Cameras & Radars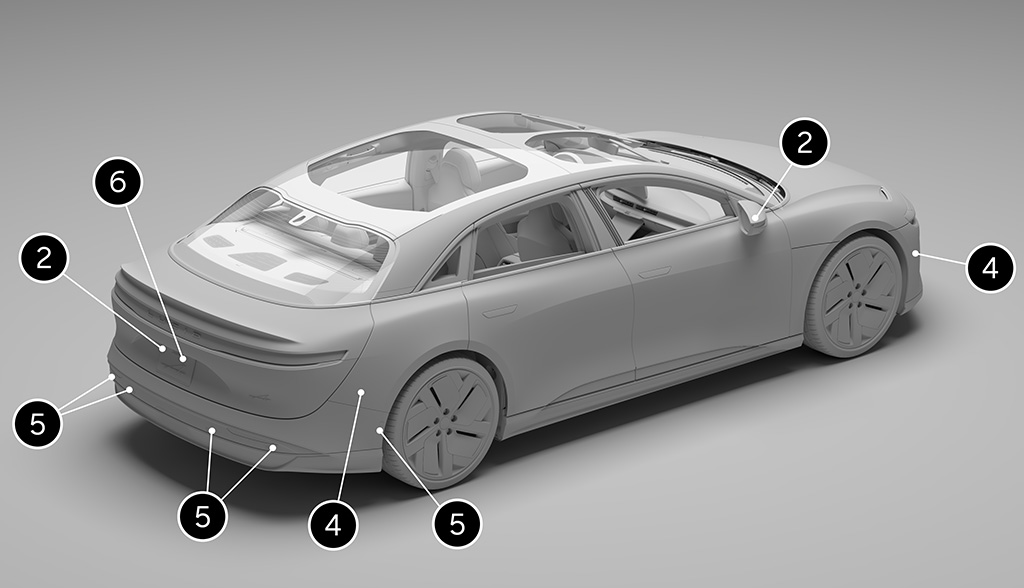 Lucid Air ADAS Features
The Lucid Air DreamDrive ADAS features currently support the following features:
Driving Experience
Adaptive Cruise Control
Highway Assist
Traffic Sign Recognition
Traffic Drive-Off Alert
High Beam Assist
Drowsy Driver Alert
Distracted Driver Alert
Supplemental Safety
Forward Collision Warning
Automatic Emergency Braking
Cross Traffic Protection
Lane Departure Protection
Blind Spot Warning
Blind Spot Display
Parking Experience
Automatic Park In
Automatic Park Out
Surround View Monitoring
Rear View Monitoring
Park Distance Warning
Lucid Air ADAS Limitations
Here are some of the documented limitations of ADAS in the Lucid Air:
Poor sensor visibility due to weather conditions (e.g., heavy rain, snow, or fog)
Bright ambient light (e.g., oncoming headlights or direct sunlight)
Poor ambient light (e.g., at night or in poorly-lit tunnels)
If the sensors, cameras, or the camera view areas of the glass canopy become
dirty, foggy, damaged, or otherwise obscured
Interference or obstruction by an object mounted onto the vehicle (such as a bike
rack)
Obstruction caused by applying excessive paint or adhesive products (e.g., wraps,
stickers, or rubber coatings) onto the vehicle
Narrow or winding roads
A damaged or misaligned bumper
Source materials from the Lucid Owner's manual.