Lucid Group has published its Q2 2022 earnings report and it shows that the EV company has delivered 679 vehicles to customers this quarter. They also at over 37,000 reservations, which is up from 30,000 reservations in Q1, and up from 25,000 reservations in Q4.
Lucid also cut its production outlook for 2022 to 6,000 to 7,000 vehicles, which is down from 12,000 to 14,000 vehicles estimated last quarter and the previous quarter. Lucid reported first-half production of 1,405 vehicles. In Q1, Lucid delivered 360 vehicles, so deliveries were significantly up from the previous quarter. On the earnings call, the CEO of Lucid announced they pushed 19 OTA software upgrades to the Lucid Air with a major software upgrade coming "later this year." Peter Rawlinson also mentioned CarPlay is in beta and coming really soon.
My early estimates put Lucid delivering between 900 and 1,200 cars in Q2 but it looks like I was wrong. Lucid also said they are still expecting deliveries of Air Touring and Pure lines later this year.
To fix operations issues, Lucid announced the hire of Steven Davidas Senior Vice President of Operations, which is a "newly created position will lead operations, including supply chain, logistics, manufacturing, and quality."
Here are the highlights:
Q2 revenue of $97.3M driven by customer deliveries of 679 vehicles in the quarter
Strong demand with over 37,000 reservations, representing potential sales of approximately $3.5B
Production volume outlook for 2022 revised to a range of 6,000 to 7,000 vehicles
Here are the key highlights:
Lucid is now up to 29 mobile service vans from 23 in Q1, 64 approved body shops from 40 in Q1, and 29 studios and service centers from 26 in Q1.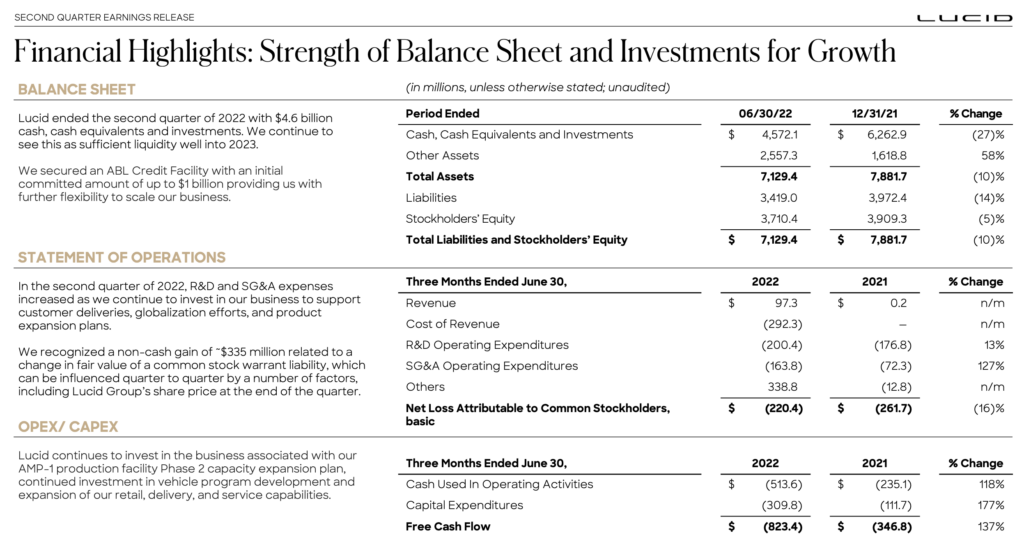 "Our Q2 revenue was $97.3 million, primarily driven by higher customer deliveries of Lucid Air vehicles. We continue to have a strong balance sheet, closing the quarter with $4.6 billion cash, cash equivalents and investments, which we believe is sufficient to fund the Company well into 2023," said Sherry House, Lucid's CFO. "Despite our immediate challenges, we believe that bringing our logistics center on-site at our Arizona factory will help reduce complexity, cut down lead times, and reduce various costs."
CNBC reported "the announcements came as Lucid reported its second-quarter results. Here are the key numbers: Revenue: $97.3 million, Loss per share: 33 cents and Vehicles delivered: 679. "Lucid had $4.6 billion in cash and equivalents as of the end of the second quarter, down from $5.4 billion at the end of March but enough to fund operations "well into 2023," House said.
The stock is currently down about 11% in after-hours trading. Here is a link to the 10-Q form, the presentation for the earnings call, and the Form 8-K.