Today I visited the Lucid Studio in Short Hills, New Jersey for the second time since reserving a Lucid Air. The first time I was there was on March 7, 2022, less than a month after that location opened. Lucid, at the time, was not offering test drives, but now they are, so I went back to do a test drive.
I'll share photos of the studio below, but first, let me share my experience with the test drive.
About Me
I have never in my life driven an electric vehicle before this test drive
I am incredibly well researched on the Lucid Air and all of its functions, drive capabilities, pros, and cons (as you'd imagine for someone who has written over 300 stories on this car)
I have read countless written reviews of the Lucid Air
I have watched hundreds of hours of video reviews of the Lucid Air
I scour the owners' forums for likes and dislikes, quirks, bugs, and more
I am not a professional driver or car reviewer (not yet at least)
So in short, I am super knowledgeable about how the car drives, functions, and what to expect. So I was a tad nervous that my expectations would not be met with the test drive.
Test Driving The Lucid Air
The excellent Lucid employee took me out and showed me all the basics on how to drive an EV. I quickly learned the one pedal driving and how to come to a stop as I left the parking lot to enter the roads. Here is the car parked in one of the parking garages in the mall.
The 360-degree cameras made me confident backing out of the spot, since using regen braking for the first time was super new at this point.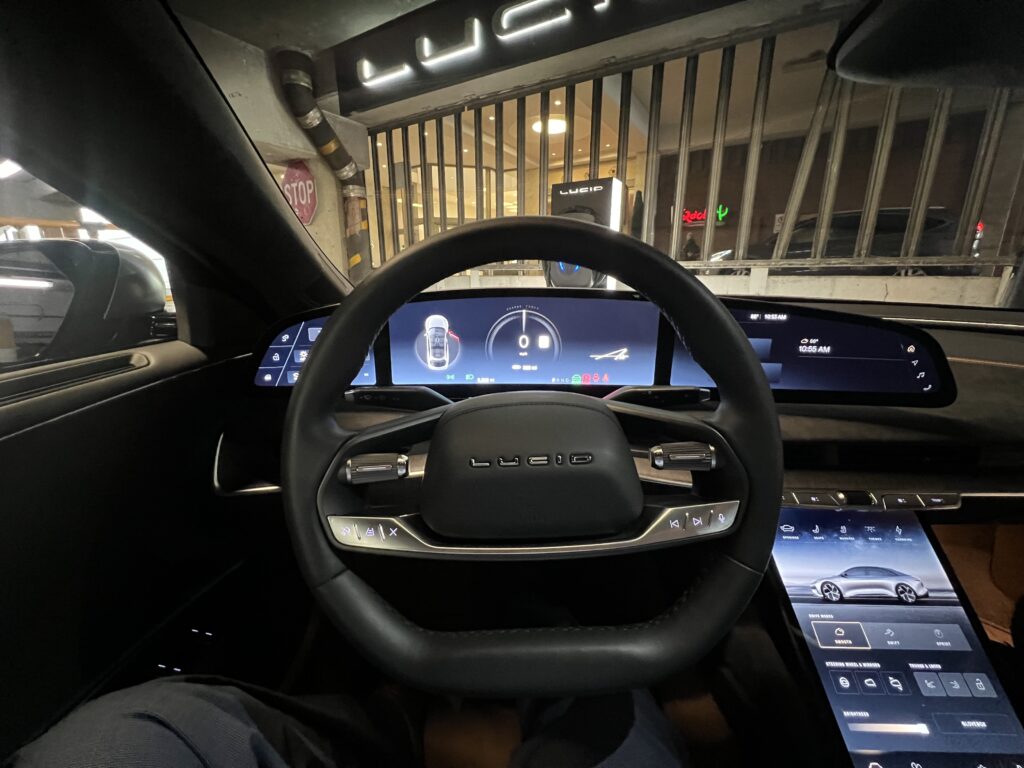 I will tell you right off the bat, the car still blew my expectations away, even after reading and watching every review published to date.
Smooth like butter: I did not expect the drive to be as smooth as it was and this is coming from someone who has driven a luxury car for the past 20+ years (from Lexus, Mercedes, Acura, and in between).
I knew the car had power, I knew people said it would be smooth and a delight to drive. I did not expect the drive to be that comfortable, that luxurious, and that smooth both on sidestreets and on the highway. You do hear the hum of the motors running but I found that hum soothing, to be honest.
The Lucid Air drove and floated over the pavement better than any other car I have ever driven.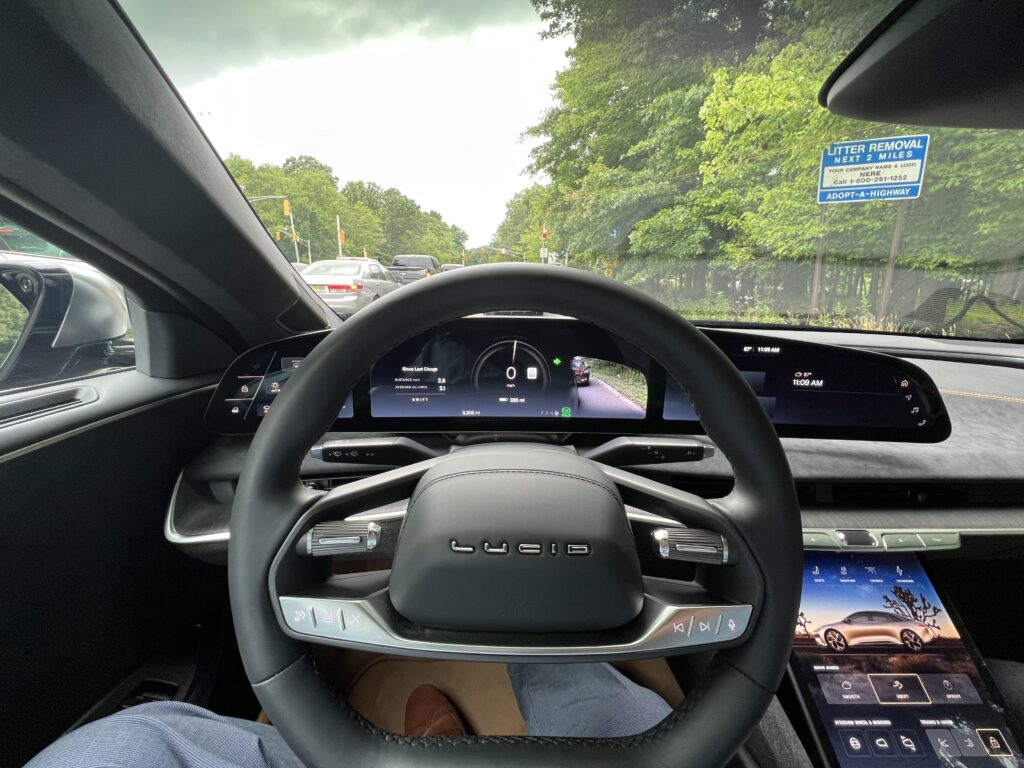 Power keeps giving: So you hear a lot about the acceleration and the speed and I was expecting a lot. I drove the standard Grand Touring range edition with 19″ wheels, not the performance edition in this test drive. The car just goes in any drive mode, from smooth, swift to sprint – it just goes. Of course, you feel the acceleration way more in sprint mode but even in smooth, the car just goes compared to any car I have ever driven. In fact, when driving my Acura back to work, I was missing the acceleration, I felt like my Acura was simply not moving.
The 0-60, I did not try but what was more insane was going 45 mph and then pressing down on the pedal, not even too much, the car in sprint mode would simply fly. The 45 mph to 75 mph or beyond (I tried not to get a ticket) did not let up. I felt like I could easily hit 120+ and not feel a degradation of speed.
The acceleration literally plants you into the super comfortable seats, like you are on a rollercoaster but at the same time, fully in control of the car. It is a weird sensation that I have not felt before.
Confidence In Ordering The Lucid Air
Honestly, I was nervous that I would come out of the test drive where I was underwhelmed by the test drive. My expectations were super high after reading and watching literally everything that was ever produced by third-party reviewers on the car. So I was anxious that I would not absolutely love the car.
This test drive, if anything, not only made me more confident that this is the car I want to buy and drive for the next several years but also that I want it now. I hope to get the car in the next month or so and until then, I will wait, as patiently as I can, for the email telling me my car is ready to pick up.
I am delighted I went for a test drive because now I am going into buying this car with even more confidence than before – if that is even possible.
Short Hills, New Jersey Lucid Studio
As I said, this was my second time here, and while the first time, the studio had a black Lucid Air, a Dream Edition, this time, the studio has my exact color and mode specifications – outside of the wheels not being the 19″ wheels.
Here are the studio photos from today (click to enlarge any photo):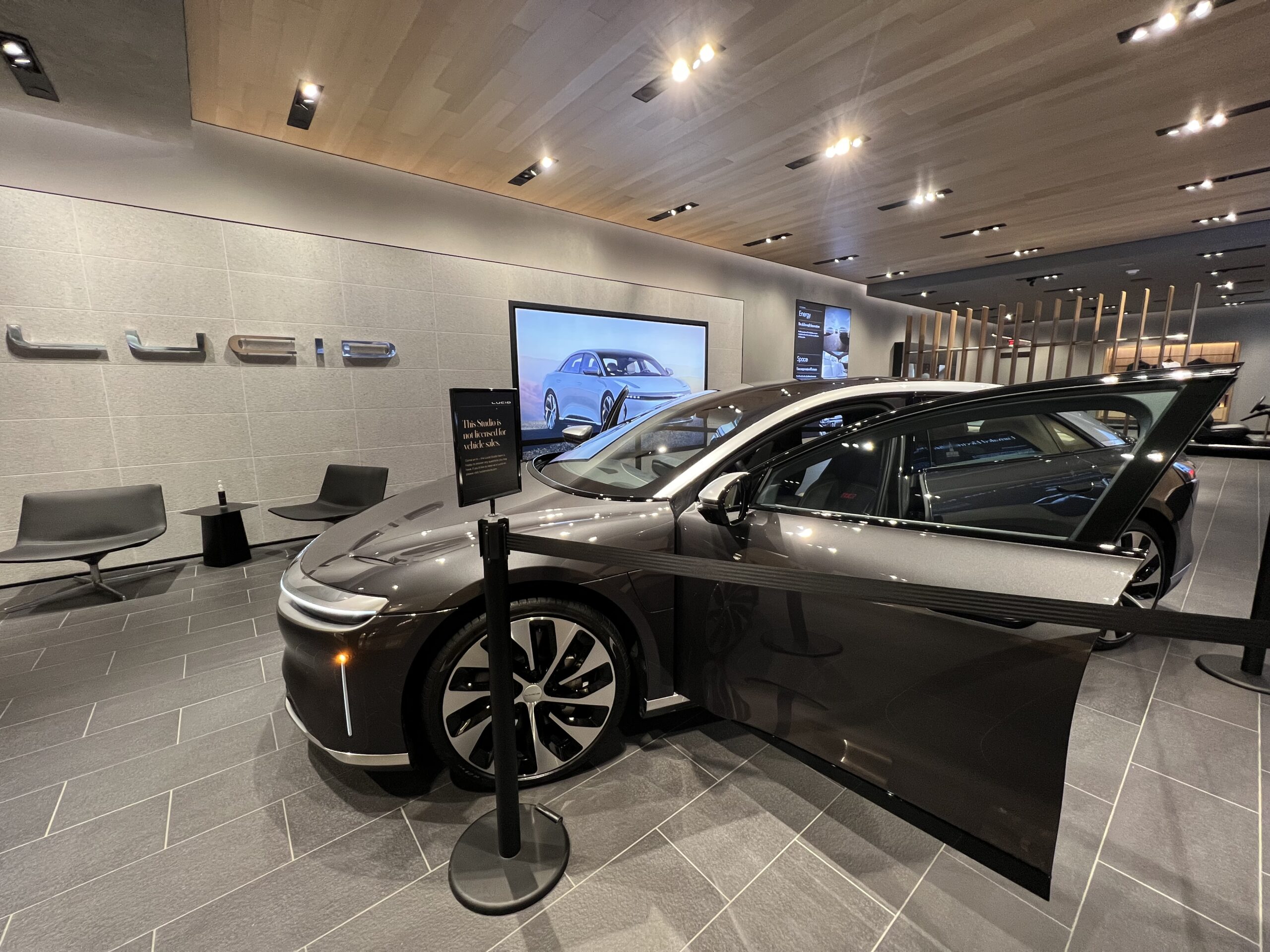 Here are the studio photos from March 2022 (click to enlarge any photo):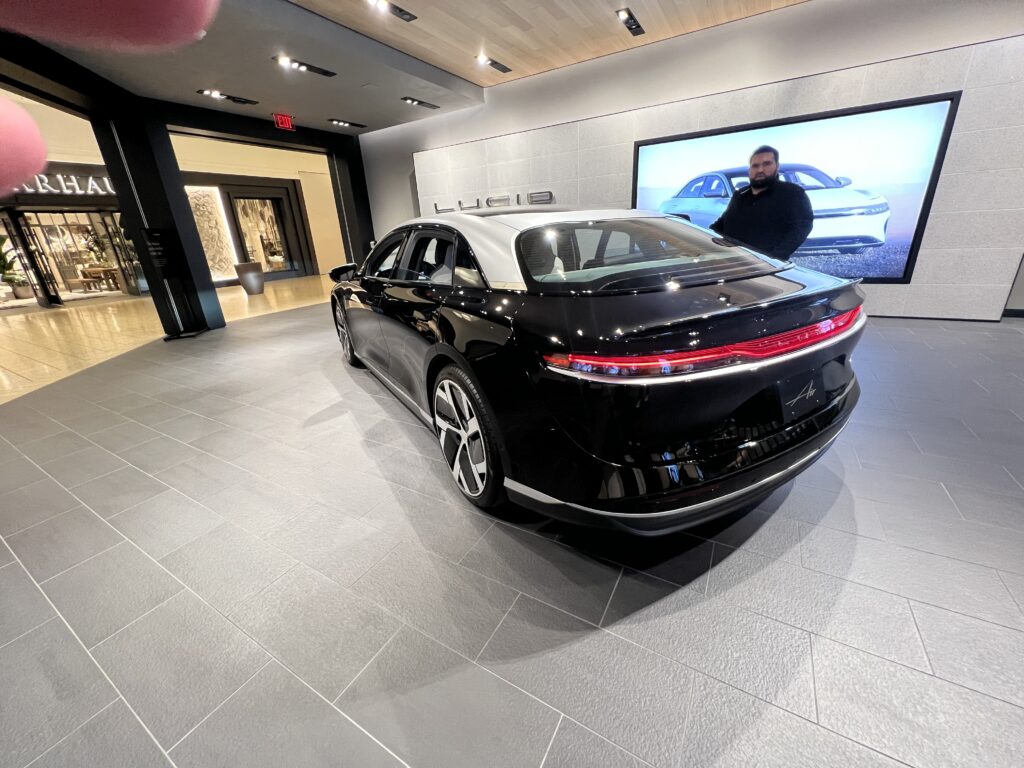 Update: Here is the car I test drive, I did not take a photo of it from the outside but this Twitter user did:
July 25, 2022
Disclaimer
To be fair, I did give Lucid PR a heads up that I scheduled a test drive, so I am not sure if that had any influence on the service I received. I don't think it did, to be honest, but I just wanted to add that disclaimer. In addition, I did not feel it would be right to video or quote anything that happened at the studio, because the Lucid employees at that location were not spokespeople and trained in press relations. So I just snapped some photos and did not record anything, nor did I quote anything the employees at the studio told me. This was just a summary of my experience test driving the Lucid Air Grand Touring range edition at the Short Hills, NY Lucid Studio.