A few weeks after I confirmed my Lucid Air order with Lucid Motors, a Lucid Delivery Advisor reached out to schedule an introductory call and also gather some information. The information gathering process, such as obtaining my registration details, such as my driver's license, insurance, license plate, and more, was done manually by the Lucid Delivery Advisor.
Honestly, I was surprised they didn't have this feature in their website portal, and currently, they still do not have it in the login area of their website. But they did seem to automate the registration collection data gathering process a bit more.
A post on Twitter shows one Lucid Air reservation holder (who also currently owns another Lucid Air, he reserved and ordered at least two Lucid Airs), that Lucid Motors now has you click on a link to upload your registration details.
The email says "As your Inside Delivery Advisor, I'm excited to connect and work together as we prepare you for Lucid Air ownership." The new part is that Lucid has a "click to start registration process" link. It says "you can get started by filling out your registration information online with your Lucidf Account using the above link. You'll need a JPEG/PDF copy of your driver's license and any other registration documents to complete this form."
Here is a screenshot: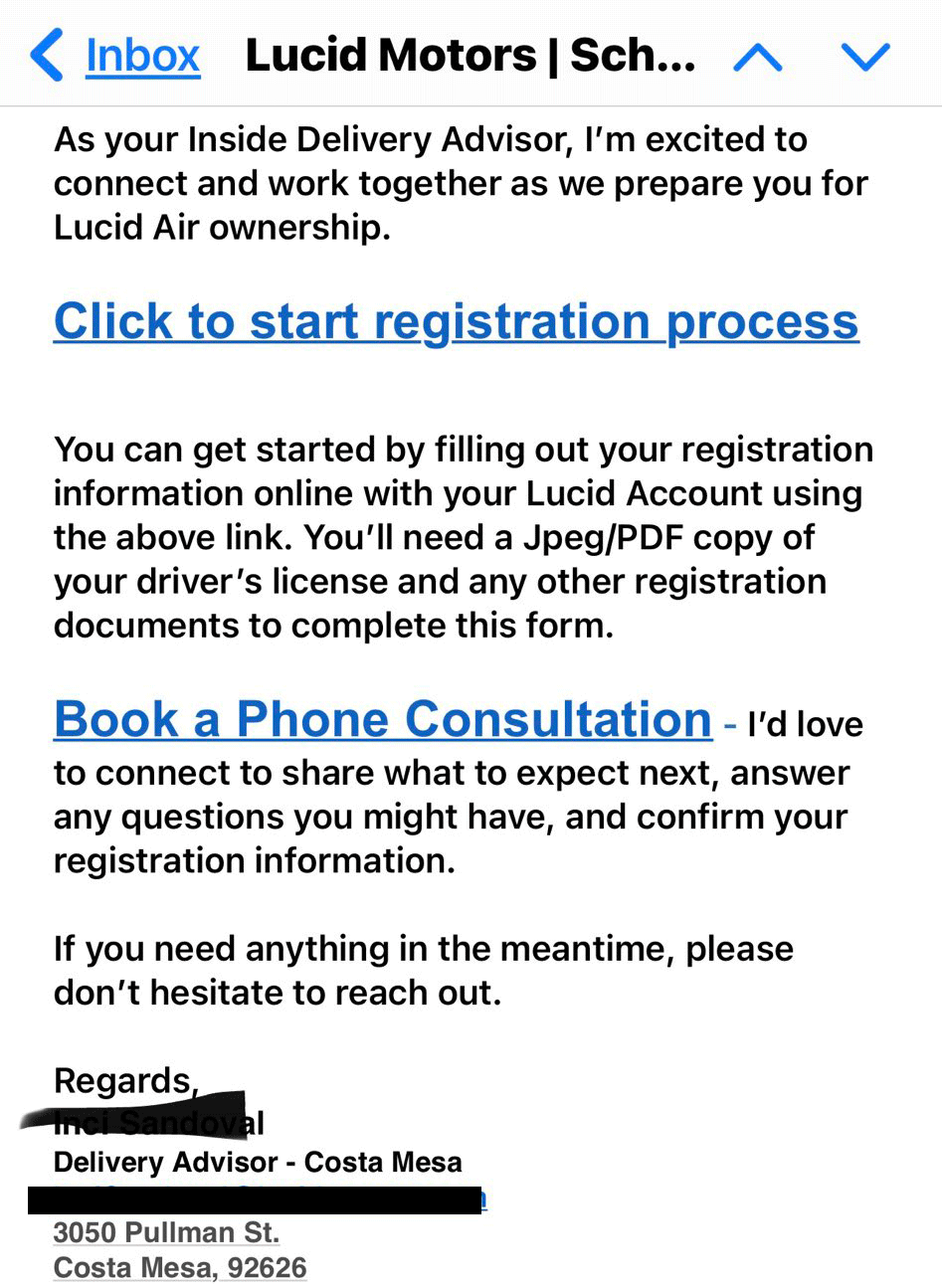 Please note, that I do not see this feature in the Lucid Motors portal for customers, so this may link you somewhere else?
Again, I am happy Lucid Motors is automating more of the onboarding process. I am a junky for using web/mobile software to automate administrative work. So when I was asked to email these documents early on, I thought to myself, that is inefficient. I am glad to see this part being more automated, which will speed up Lucid in onboarding new customers and reduce errors.