Bloomberg just published its Bloomberg Green's Electric Car Ratings and the Lucid Air is the now the greenest car on the market. It also rated number one in charge speed and most range of all EVs on the market. This story has been updated since Bloomberg has updated its chart on July 7th and now shows the Lucid Air as the greenest car on the market, previously it showed the Tesla as the winner – that is no longer the case.
The Bloomberg Green's EV ratings dashboard catalogues the models currently available in the US. Along with car specs, Bloomberg also have come up with a Green rating for each model, based on how efficiently the cars travel once on the road and the resources needed to manufacture the batteries in those cars.
The Lucid Air scored a 71.1 green rating which is the now the highest ton the list, the next on the list is the Tesla Model 3 long range model. The Lucid Air also reported the most range in miles with 520 miles. Bloomberg updated the chart to use the Lucid Air Dream Edition range edition, when it previously used the performance edition. I have both the old and new charts below.
The battery is a 118 kWh size with a charge speed of 22.0 miles per minute. Note, the battery size is not the largest on the list, it is the fourth largest, so that is impressive for efficiency of this Lucid Air.
The Lucid Air also scored the highest for charge speed, rated at 22 miles per minute, above the Mercedes EQS and Tesla models. Bloomberg listed all of its variants the the green data per variant on this page.
How does Bloomberg come up with this Green rating? See the methodology used to chart these winners.
NEW: Here is the revised charge of the top five greenest EVs on the market updated on July 7th: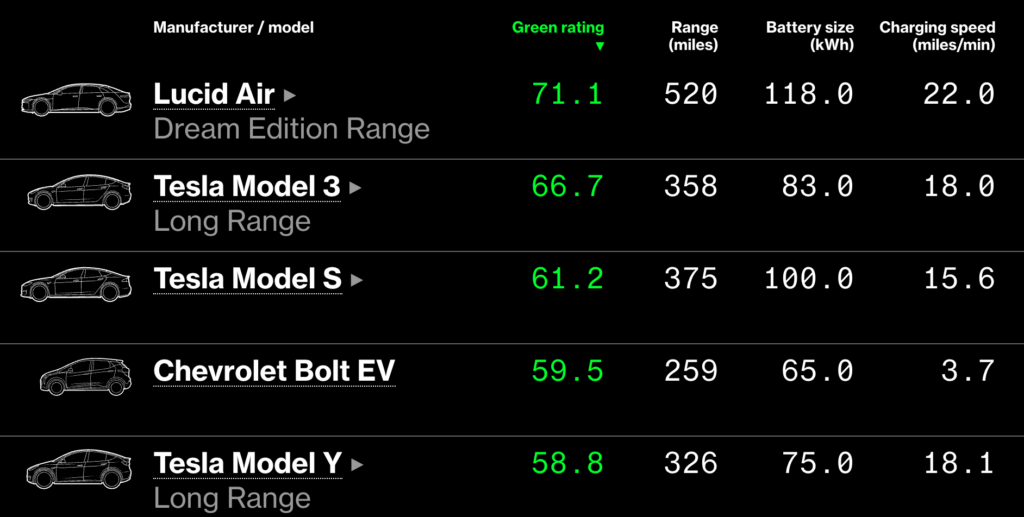 OLD: Here are the top five greenest EVs on the market published on July 6th: