As you may remember, Lucid Motors teased the latest OTA (over the air) software update, version 1.2.6, for the Lucid Air a couple of days ago. We heard rumors that software update would be available to all customers on Friday, June 10th, today. And it seems like those rumors were true, starting around 1am ET on Friday, June 10th, some Lucid Air owners were able to download this update.
The Lucid Owners Forums has a number of Lucid Air owners saying they are now able to download version 1.2.6 today. The screenshot above is from the forum of someone showing how the software update for the Lucid Air being in progress from the Lucid Motors mobile app.
Yes, you can do a software update for your Lucid Air EV either directly from the car's control panel or via the Lucid app.
In version 1.2.6 Lucid Motors added new languages, key fob improvements, traffic sign recognition, navigation, offline navigation mode, more interactive maps, improved range estimates, other navigation updates and other minor updates. You can learn more about the update over here.
Here is what the car's dash looks like when the Lucid Air is updating (via Facebook):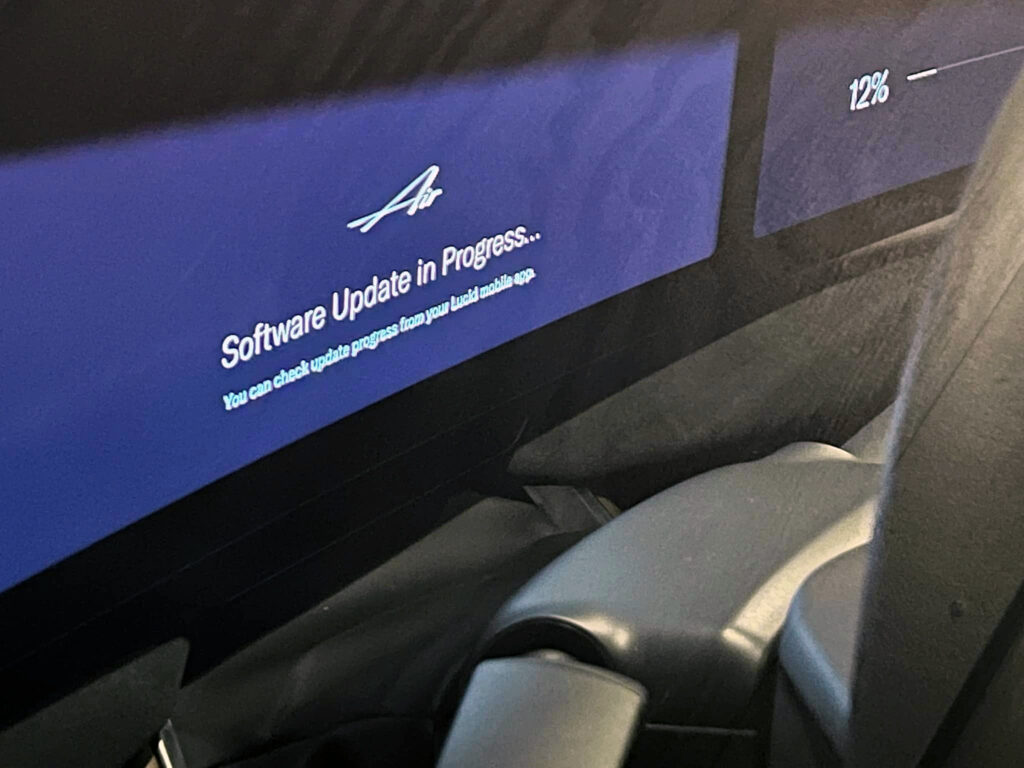 User Feedback
Here is some of what Lucid Air owners are saying about this update thus far, from the Lucid Owners Forum:
New loading screen drops the loading bar. It just shows a blurred out map and route
POIs are clickable in the glass cockpit area as well as pilot panel
Routes show traffic yellow/red along the blue line
Manage route now has multiple routes with SoC start and end %'s plus time at charging station
EA station filter is well done. Just a toggle in charging search. I was afraid it was buried deep in settings
Haven't found any TripAdvisor info as described in notes. Clicked around well-known LA and SF spots. However, it is nice to search and click via the map now and call/navigate from info panel
Telephone and audio automatically show up on the pilot panel now when selected above. I don't have to "drag" it down to see it.
The boot time still takes over 20 seconds, which is upsetting to some…