Lucid Motors is having a VIP grand opening of its new showroom in the Seaport District in Boston, MA today, with the official store opening tomorrow, April 16th. Lucid announced the official opening on their company website this morning, saying "the Lucid Studio Seaport will open to the public on Saturday, April 16."
Some Lucid reservation holders in the Boston area have been invited over the past few weeks to attend a VIP opening today, April 15th, at the showroom. In the Lucid Owners Forums is a thread of some of those who were invited, here are some of those comments:
Just got a call from Peter from Lucid. Of course I had to ask, even though I knew the answer, if he was CEO Peter and he wasn't. He invited me to the "VIP Opening" Friday April 15th. Said they had a limited number of spots. Unfortunately had to turn it down, bad timing.
I got the call (my GT was shipped and is undergoing pre-delivery inspection in Chicago) but I can't attend because I have to work that weekend. ☹️ I'm only 45 min from Boston too. I wonder if they'll offer test drives? Boston is probably the worst place on earth to drive.
I received the call earlier this week as well. I have a Touring and a Pure booked. They actually called twice not realizing we have two reservations. No test drive but can see a GT in person plus some virtual reality things. Looking forward to it.
Also got a voice message from Peter inviting me to the April 15 opening but when I called the slots were filled. Fine with me because the studio will likely be rather crowded and I can arrange a visit after the 15th. No test drive for a while. True that the Seaport District in Boston is a sub-optimal test drive area, but not impossible. FWIW, the Tesla location on Boylston St is no further than entrances to highways than Seaport, and my full day drive of an MS a year ago or so was no problem. Of course, Natick will be a bit easier. I have not called the local Lucid rep who Peter introduced because I am not expecting a VIN on my confirmed AGT order for months. I do want to test drive a GT, however before wiring funds for the purchase.
Here is more from the press release "Our Studios in Boston and Manhasset will increase our physical footprint in a market where we see growing demand for electric vehicles – the Northeast," said Zak Edson, Vice President, Sales and Service of Lucid. "These new locations position Lucid next to likeminded, luxury brands and expose us to potential customers who might be discovering the brand for the first time."
Here is a photo of the inside of the new Boston showroom: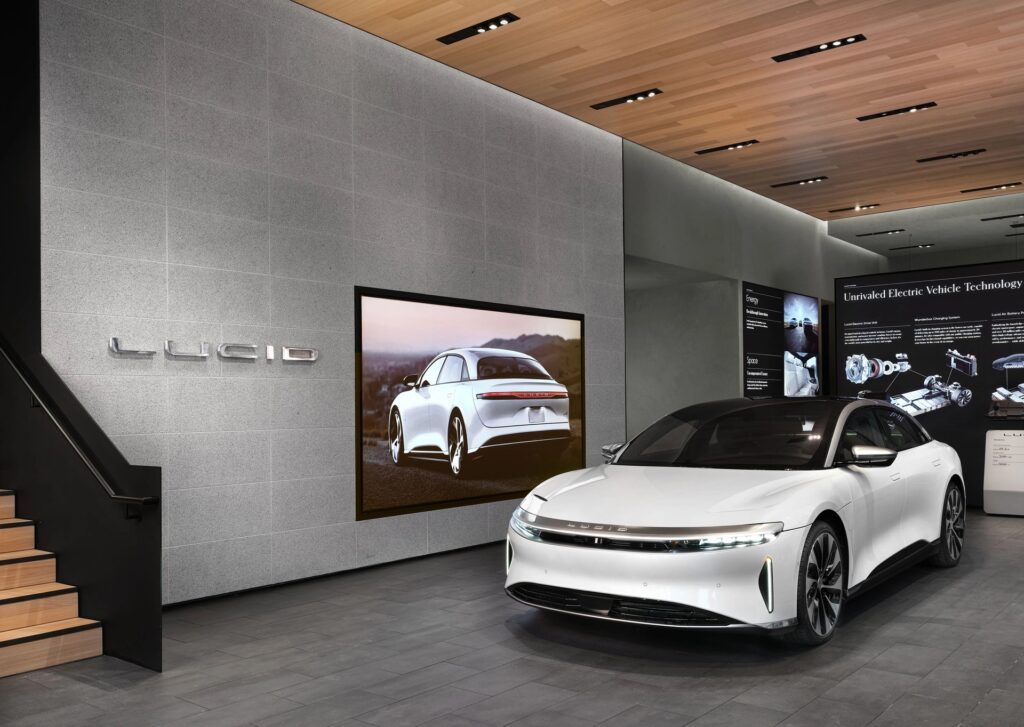 And if you think that car looks familiar, it was delivered two days ago via truck. Here is a post on Twitter showing the delivery: