Lucid Motors announced this morning that the EV company is expanding to Europe with the opening of its first Lucid Studio in Europe and with the availability of a very limited number of Dream Editions for some early reservation holders.
Dream Editions In Europe
Last month, Lucid did an unofficial unveiling of the Dream Edition in Europe at some sort of event. We posted videos and more details in the post I linked to above. But now, Lucid Motors officially confirmed the Dream Edition is coming to Europe.
Lucid said it will offer a "very limited number to existing reservation holders in Europe to celebrate the launch of Lucid Air." These will be offered to a select number of "reservation holders in Germany, the Netherlands, Norway and Switzerland," the company said. Lucid said if you placed a reservation already, "customers in the aforementioned countries with an existing reservation for a Lucid Air can request an upgrade of their reservation to an Air Dream Edition P or Dream Edition R while available."
Expected deliveries of the Dream Edition in Europe is slotted "to begin in late 2022," the company said.
Dream Edition European Pricing
Pricing for the Dream Edition in Europe depends on the country, here is what Lucid posted as pricing:
Germany. €218.000 – including 19% value added tax, destination fees and documentation fee.
Netherlands. €222.000 – including 21% value added tax, destination fees and documentation fee.
Switzerland. CHF199.000 – including 7.7% value added tax, destination fees and documentation fee.
Norway. NOK 1.850.000 – including destination fees and documentation fee.

Dream Edition European Specs
Here are the specs in European format for the Dream Edition Performance and Dream Edition Range: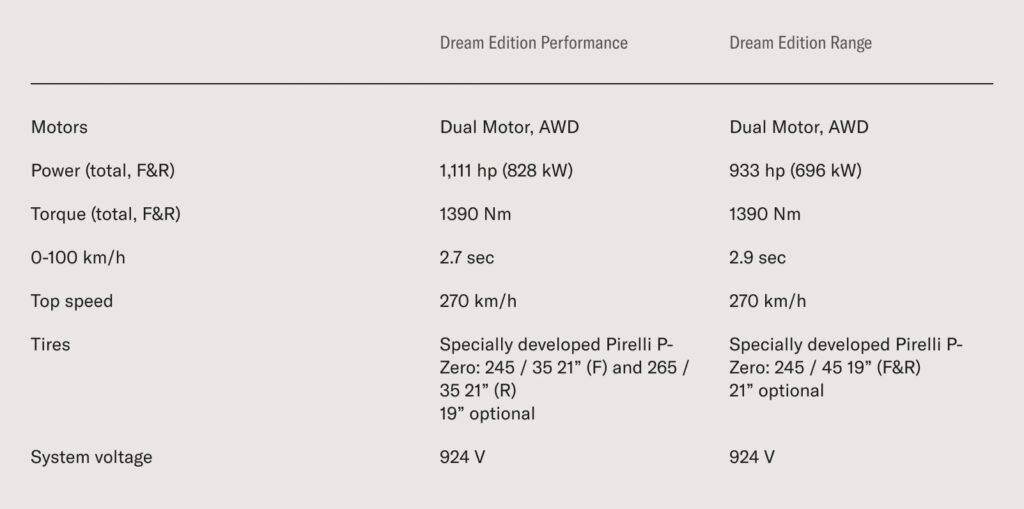 Other Lucid Air Reservations in Europe
Lucid currently accepts reservations from European customers in Austria, Belgium, Denmark, Finland, France, Germany, Italy, Monaco, the Netherlands, Norway, Spain, Sweden, Switzerland, and the UK. By placing a fully refundable reservation starting at €300, customers will secure their place in line for the Lucid Air Pure, Touring, and Grand Touring models when deliveries begin in their respective countries. "These specific markets were selected due to a combination of charging infrastructure, market acceptance, and size," Lucid said.
Germany Lucid Studio Opens May 13, 2022
Lucid plans to open its first European retail location, a Lucid Studio, at Odeonsplatz in Munich, Germany on May 13, 2022. "The luxury retail space will invite customers to experience the brand and its products in the heart of the iconic old town area," Lucid wrote. The company expects to open additional studios and service centers in Germany, the Netherlands, Norway, and Switzerland in 2022 with more plans for new locations in the future.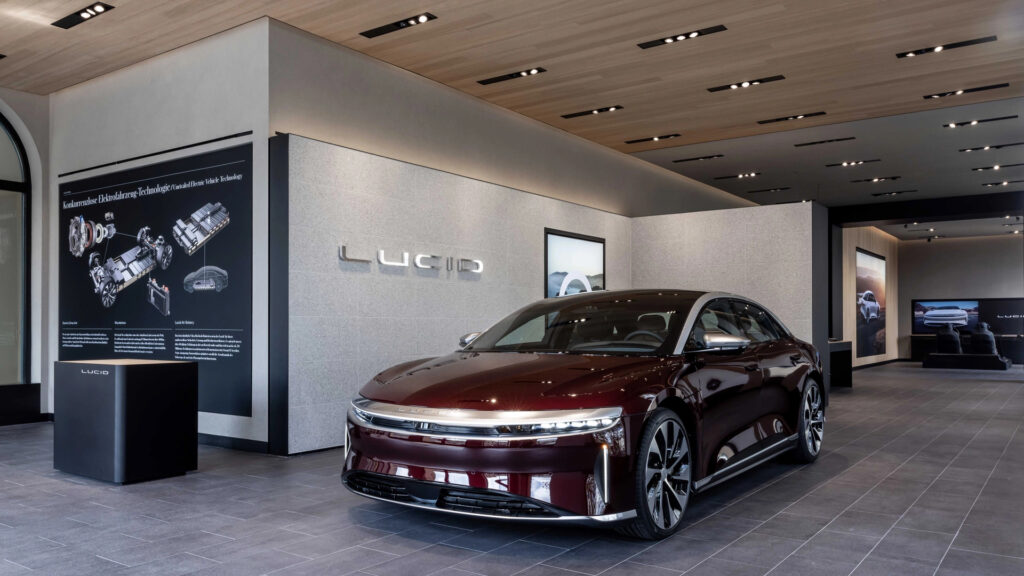 "The expansion into Europe and the decision to offer Lucid Air Dream Edition in this market serve to strengthen Lucid's position as a global brand and further supports our mission to elevate the standards of the electric vehicle industry," said Zak Edson, VP of Sales and Service, Lucid. "The company's first offering, Lucid Air Dream Edition, delivers 0-100 km acceleration in 2.7 seconds or an estimated 900 km* of range on a single charge, along with a 924 V electrical architecture for impressive fast charging – all the performance, the quality, and the range that make it perfectly suited for the European market."
Here are some photos from the private launch event on May 11, 2022.