One of the neat features in the Lucid Air is that you can remotely tell your Lucid Air what you want the interior temperature to be when you get in the car. You can control this using the the Lucid app. This is called "preconditioning." Lucid's owner manual says preconditioning is available within the Lucid mobile app, allowing you to remotely set the cabin temperature or windshield defrosting controls.
One Lucid Grand Touring did a quick test to see how fast it would be to cool down the interior cabin of his Lucid in Phoenix, Arizona on a hot day. He posted his findings in the Lucid Owners Forum and said "I frequently charge at work and since it was 95 outside yesterday, I tried the pre-cool function to see how quickly it cooled and how it impacted my charge rate. Here are some notes on interior temperature and power draw."
As you can see, it was 134 degrees in the interior cabin of the Lucid Air when he started:
| | | | |
| --- | --- | --- | --- |
| | Charge rate mi/hr | Power In | Interior Temperature |
| Prior to starting AC | 21 | 6 kW | 134 |
| Just after starting AC | 0.0 | 6 kW | 134 |
| 5 minutes in | 0.0 | 6 kW | 112 |
| 10 minutes in | 0.0 | 6 kw | 94 |
| 15 minutes in | 0.0 | 6 kW | 91 |
| 20 minutes in | 0.0 | 6 kW | 89 |
He added that he "used the preconditioning once before a noticed after 10 minutes that the charge rate went back to about 10 mi/hr so I was expecting to see this but gave up after 20 minutes. It is interesting how the cooling rate is great for the 1st 10 minutes then really slows down. Below are a few screen shots from the app, note the bug app showing the option to turn on AC rather than off."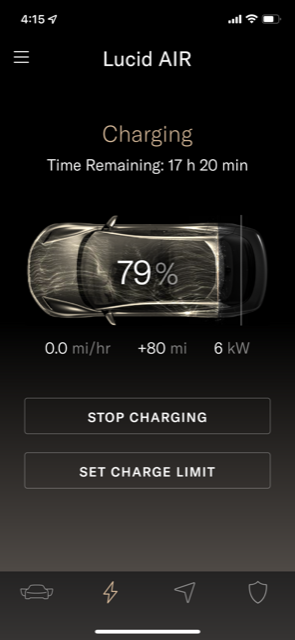 He added these details "It appears that the AC on full consumes about 6 kW since the battery was no longer charging and in fact lost 1% SOC. I assume that would go down by at least half when driving and the interior was at a stable temperature. Taking my GT with 21″wheels, the EPA rating is 4.19 mi/kWhr. Assume that I drive for one hour at 70 mi/hr and that the GT would get 96% of EPA that Tom Moloughney got with the DE range edition at 70 mi/hr. Here is the resulting efficiency."
No AC – 4.02 mi/kWhr
AC using 3kW – 3.43 mi/kWhr
AC using 6kW – 2.99 mi/kWhr
Super interesting details!