Lucid Motors produces the Lucid Air EVs mostly in Arizona. From there, the cars go out to delivery centers or service centers for pre-delivery inspections, also known as PDI. From there, a customer can pick up the car from those service centers or they can wait for the Lucid Air to be delivered to the customer's home or office on a trailer.
Some customers picked up their cars at some of the locations, specifically the Costa Mesa, California and Riviera Beach, Florida centers. And those lots have many cars that are done with PDI (pre-delivery inspection) and are waiting for customers to pick them up.
Here is a shot of the Costa Mesa shot which I found in the Lucid Owners Forum where the person said "Not sure regarding all Service Centers, but at the Costa Mesa, they have a lot of cars (20+) that have gone through PDI and are covered and waiting for customer pickup. I'm thinking some customers have not arranged financing or decided if they are fully committing to the purchase. I saw some Dreams still there. So just because they have lots of cars at the SC doesn't mean all are waiting for PDI. CM did mine in one day and they said more are picked up during the week."
Here are numerous shots from the Riviera Beach location from the weekend posted in the Lucid Owners Forums where the buyer said "I took delivery in Riviera Beach, FL this Saturday. Big shout out to the Delivery Center as they didn't have a pick-up slot on Saturday for me, but that means I would have had to wait another week until I could get down there. They made it work, by having one of the operations people do my delivery. Very nice. While at the delivery center, I saw 40+ Airs at the facility. Some pictures attached."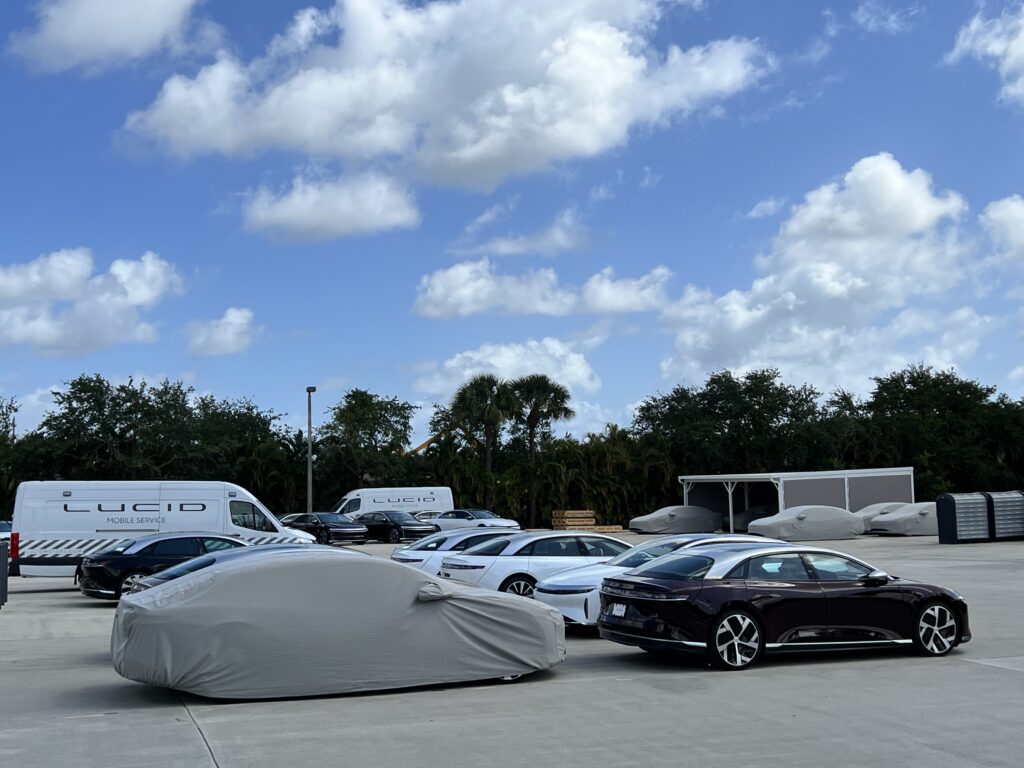 So it looks like there are a good number of cars ready to be delivered or picked up by customers and more to come.