The Lucid Air plays up there stereo quality, like you'd expect most cars of this caliber to do. All luxury cars talk about how amazing their stereo is to listen to. Truth is, I mostly listen to the news or podcasts while driving, so stereo quality is not a big deal for me. But I wanted to share what some Lucid Air Owners are saying about the Lucid's Surreal Sound system.
Lucid puts 21 speakers in the Lucid Air and they go through the system on their marketing site over here. The Dream Edition and Grand Touring come with the Surreal Sound Pro, the Touring and Pure leave off the Pro, but add it as an option.
The Sounds of the Lucid Air Speakers
A Lucid Owners Forum thread from March has some early tests of the audio in the car. Cooper, who posted these details explained that one of his "many hobbies is DIY HiFi." He said he has built "speakers and amps for fun and have a passion for really great sounding systems." So he met up with a Lucid owner and did some tests. His summary was "excellent sound staging if a little bright on the treble, small drop around 130-200hz, great bass extension but needs some oomph. You'll probably want to bump the bass EQ +2 to +4 DB and the treble down -1 to -2 db (if it seems harsh at times, YMMV). Designed for long-listening without fatigue and brings out details you'll love to hear."
Here is a data chart he posted with some tests loops between 30hz-20khz. He used Room EQ Wizard on my laptop, connected to the Air via bluetooth: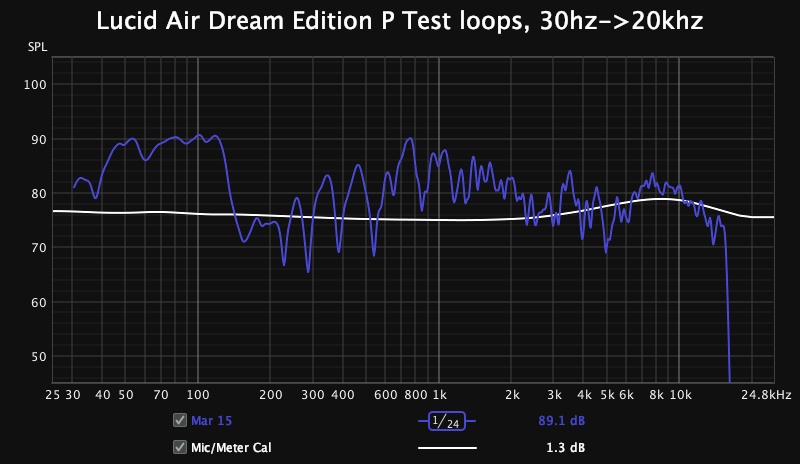 If you want to read his whole review, check out what he posted in the Lucid Owners Forum thread – it is pretty details.
Photos of the Speakers in the Lucid Air
In another thread, one Lucid Air owner posted photos of the speaker locations. The speaker locations include:
Two A Pillar
Two Rear door
Two Above the Rear Door
Three in the Rear Window
Three up Front
There are zero in the front doors, he said, which is unusual. Plus there are several other speakers throughout the cabin. Here are some of those photos: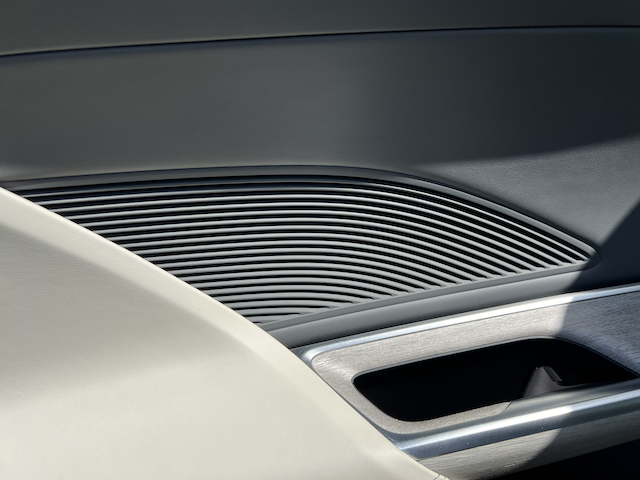 Cooper chimed in here in the forums and added "Front door panels are terrible places for speakers so I'm glad they stuck with the pillar and dash. They eat space, have worse acoustics for anything other than LF duties which can cause nasty resonances or standing waves in the footwell (I'm looking at you, Harmon/Kardon!)"
Here is Lucid's video on the sound system: